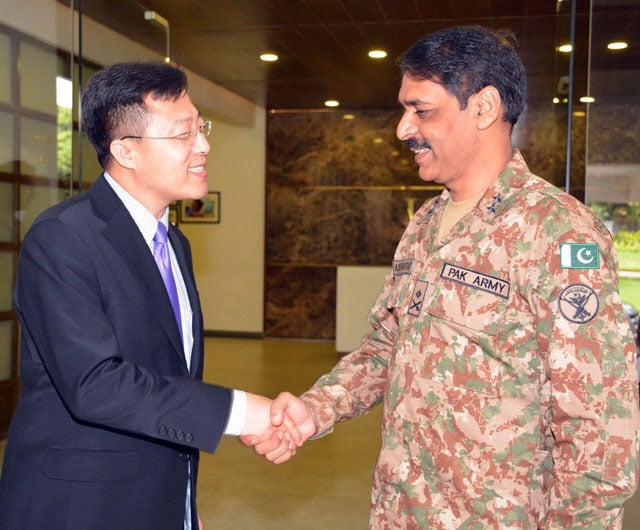 ---
ISLAMABAD: The Chinese deputy chief of mission (DCM) in Pakistan has lauded the role of military's media wing, Inter-Services Public Relations (ISPR), in promoting military to military relationship between both the countries.

"The ISPR is working to present a positive narrative of China-Pakistan friendship," Lijian Zhao was quoted as saying on Wednesday. "The [Chinese] embassy stands ready to work with the ISPR and together we can help build a good narrative for our mutual relationship."


Chinese DCM Lijian Zhao @zlj517 visited ISPR. Looks forward to continue strengthening Pak-China Friendship. pic.twitter.com/o5KRNXAFSW

— DG ISPR (@OfficialDGISPR) August 23, 2017


The Chinese envoy expressed the remarks after his meeting with DG ISPR Maj-Gen Asif Ghafoor at the ISPR directorate in Rawalpindi.

China defends Pakistan after Trump criticism

The Chinese official's visit to the ISPR headquarters came just a day after Islamabad's strongest ally Beijing defended the former following the US President Donald Trump's denouncement of "safe havens" for militants in the country.

Trump on Monday committed the United States to an open-ended conflict in Afghanistan, signalling he would dispatch more troops to America's longest war and vowing "a fight to win". He insisted that others – the Afghan government, Pakistan, India and Nato allies – step up their own commitment to resolving the 16-year conflict, but he saved his sharpest words for Pakistan.

China and Pakistan consider each other "all-weather friends" and have close diplomatic, economic and security ties.
COMMENTS
Comments are moderated and generally will be posted if they are on-topic and not abusive.
For more information, please see our Comments FAQ