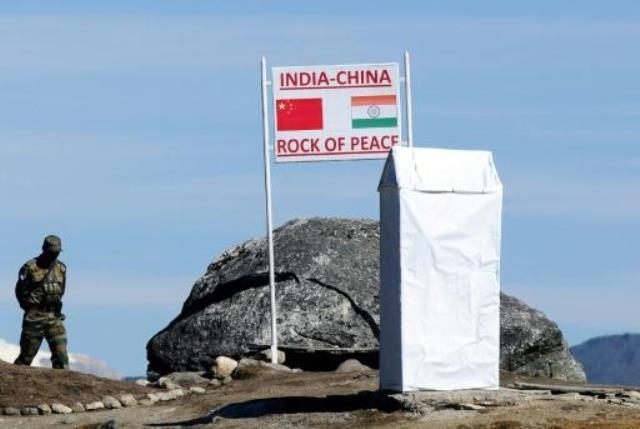 ---
NEW DELHI: India's home minister said Monday he believed a border stand-off with China would end soon, after new footage emerged showing border guards from both countries fighting on a disputed patch of land in the Himalayas.

Indian and Chinese soldiers have for more than two months been facing off on a disputed tract of land known as Doklam that India says is Bhutanese territory and China claims for itself.

Some analysts have said the dispute amounts to the worst crisis in relations between the two nuclear-armed neighbours in decades.

On Monday, Home Minister Rajnath Singh said India wanted peaceful relations with its neighbours as he addressed a unit of border guards in the capital Delhi.

"A deadlock is going on between India and China in Doklam. But I think a solution will come out soon. China will also take a positive step from its side," Singh said as he addressed the paramilitary Indo-Tibetan Border Police (ITBP).

Extremely dissatisfied' China blames India for border scuffle

"We want to maintain good relations with our neighbours. We don't want conflict, we want peace."

The ITBP guards India's 3,488-kilometre (2,167-mile) border with China along the northern Himalayan mountain range.

His comments came days after video emerged of soldiers from both sides appearing to kick and punch each other as rocks rained down on them in a disputed part of the Himalayan region of Ladakh last week.

Army sources confirmed to AFP on Monday that the video of the fighting on August 15 -- India's Independence Day -- was authentic.

India's government had previously confirmed the scuffle and said no weapons were used.

US tough talk could push Pakistan closer to Russia, China

It happened on the shores of Pangong Lake, which lies over 4,000 metres high on the Tibetan plateau and is a popular tourist attraction.

India and China share a long history of mistrust and went to war in 1962 over the Indian state of Arunachal Pradesh.

The latest stand-off began in mid-June after Chinese troops started building a road on a remote plateau that is claimed by both China and Bhutan.

India has an army base nearby and moved soldiers into the flashpoint zone to halt the work, prompting Beijing to accuse it of trespassing on Chinese soil.

China has said India must withdraw its troops before any proper negotiation takes place. India said both sides should withdraw their forces together.

India has historically been closely allied to Bhutan, but in recent years China has sought to increase its engagement with the tiny mountainous kingdom.

That has fed into a broader competition for regional influence between the two Asian powers.
COMMENTS
Comments are moderated and generally will be posted if they are on-topic and not abusive.
For more information, please see our Comments FAQ