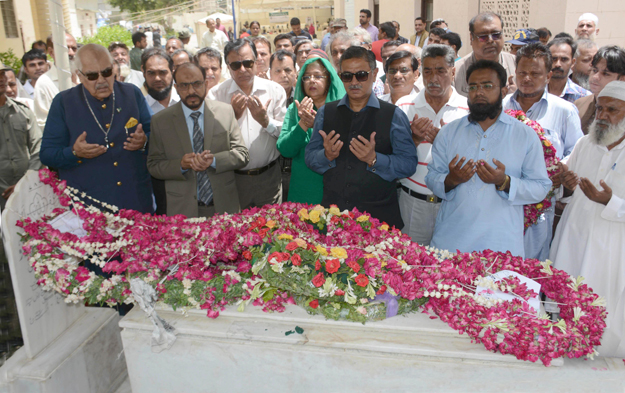 ---
KARACHI: For his immeasurable services to Urdu language, rich tributes were paid to Baba-e-Urdu Maulvi Abdul Haq at the occasion of his 56th death anniversary on Wednesday.

Addressing a ceremony organised by the Federal Urdu University of Arts, Science and Technology (FUUSAT) and Anjuman Taraqqi-e-Urdu, Karachi Deputy Mayor Arshad Vohra praised the contributions of Baba-e-Urdu for the cause of implementation of Urdu. We can only progress if we keep our language alive, he said. Vohra also praised the Anjuman Taraqqi-e-Urdu for its high-quality work.

The deputy mayor also pledged on behalf of the municipality to plant and maintain 100 trees in Urdu Bagh at FUUAST's Abdul Haq campus.

Urdu poet Hasan Akbar Kamal passes away

FUUAST Vice-Chancellor (VC) Prof Dr Suleman D Muhammad, Anjuman Taraqqi-e-Urdu Chairperson Zulqarnain Jameel and poet Dr Fatima Hassan also spoke at the ceremony, which was moderated by FUUAST Evening Programme Director Dr Muhammad Zahid. The event was attended by a large number of FUUAST students and teachers along with writers, poets and researchers.

"Urdu university is the brainchild of Maulvi Abdul Haq.  It is our duty to work for the welfare of this institution," said FUUAST VC. He appreciated the fact that a large number of people came up to commemorate Baba-e-Urdu.

Jameel commented on the performance of anjuman in his speech. "Recently, 24 books have been published by the Anjuman Taraqqi-e-Urdu. We also host meetings and inaugural ceremonies of books regularly," he said.

First death anniversary: No government representative visits Edhi's grave to pay homage

In her speech, Dr Hassan expressed pleasure that Urdu Bagh was established at a cost of Rs36 million. However, funds are required for its maintenance, she said.

Before speeches, the participants of the ceremony offered fateha for Haq and placed flowers on his grave, which lies inside the FUUAST campus.
COMMENTS
Comments are moderated and generally will be posted if they are on-topic and not abusive.
For more information, please see our Comments FAQ