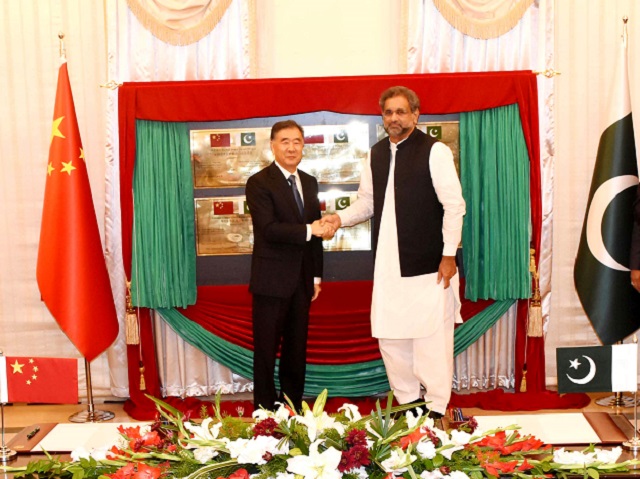 ---
Prime Minister Shahid Khaqan Abbasi on Monday affirmed Pakistan-China relationship to have attained new heights after CPEC initiative, Radio Pakistan reported.

In a meeting with Chinese Vice-Premier Wang Yang in Islamabad, Abbasi stressed the relationship between the two countries was time-tested, adding that "Pakistan and China are all weather friends and strategic partners." Stressing the importance of CPEC, Abbasi said it is a game changer for the region and beyond.

Nation celebrates 71st Independence Day

The Chinese Vice-Premiere, who was the chief guest at the flag hosting ceremony at Convention Centre in Islamabad, said his visit demonstrated the close strategic ties between the two countries and China's support for Pakistan.

Wang Yang congratulated the Prime Minister and stressed that his visit demonstrates the close strategic relations between the two countries and China's strong support for Pakistan.

Five extraordinary Pakistanis we are celebrating this Independence Day

Expressing satisfaction at the progress of CPEC projects, two leaders agreed to further cooperation after discussing bilateral, regional and international issues of mutual interest.