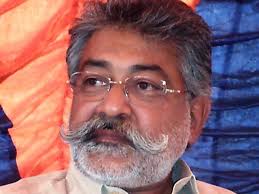 ---
KARACHI: Pakistan Muslim League - Functional (PML-F) leader Pir Pagara has said that in present circumstances, the army is a symbol of federation. Talking to the media after presiding over a meeting at Kingri House, the party's headquarters, he said, "We support army and will continue to do so".
Pagara said that personnel of the Pakistan Army have sacrificed their lives to defend this country. "We will unconditionally support those who believe in a strong federation," he added.

PML-F security men assault Tribune staffer

Flanked by other leaders of his party Zafar Ali Shah, Pir Saduruddin Shah Rashdi and Sardar Rahim, Pagara said ousted prime minister Nawaz Sharif should avoid dragging the Panama issue in the Supreme Court. Commenting on the alliance of the Muslim league factions, he said, "I have no ambitions for any post but I want to see unity among various factions of Muslim league."
Pagara said he has asked Punjab Chief Minister Shehbaz Sharif to play his role to bring the factions on one platform. He accused the Pakistan Peoples Party of rigging elections and winning polls using state machinery.

PML-F leader renders apology to Tribune staffer

PML-F leader Syed Muzafar Hussain Shah said Kingri House has been a centre for political activities and with the Pir Pagara's presence, the old glories would be revived.
Earlier, the party elected former MPA Rahim as general secretary of its Sindh chapter.