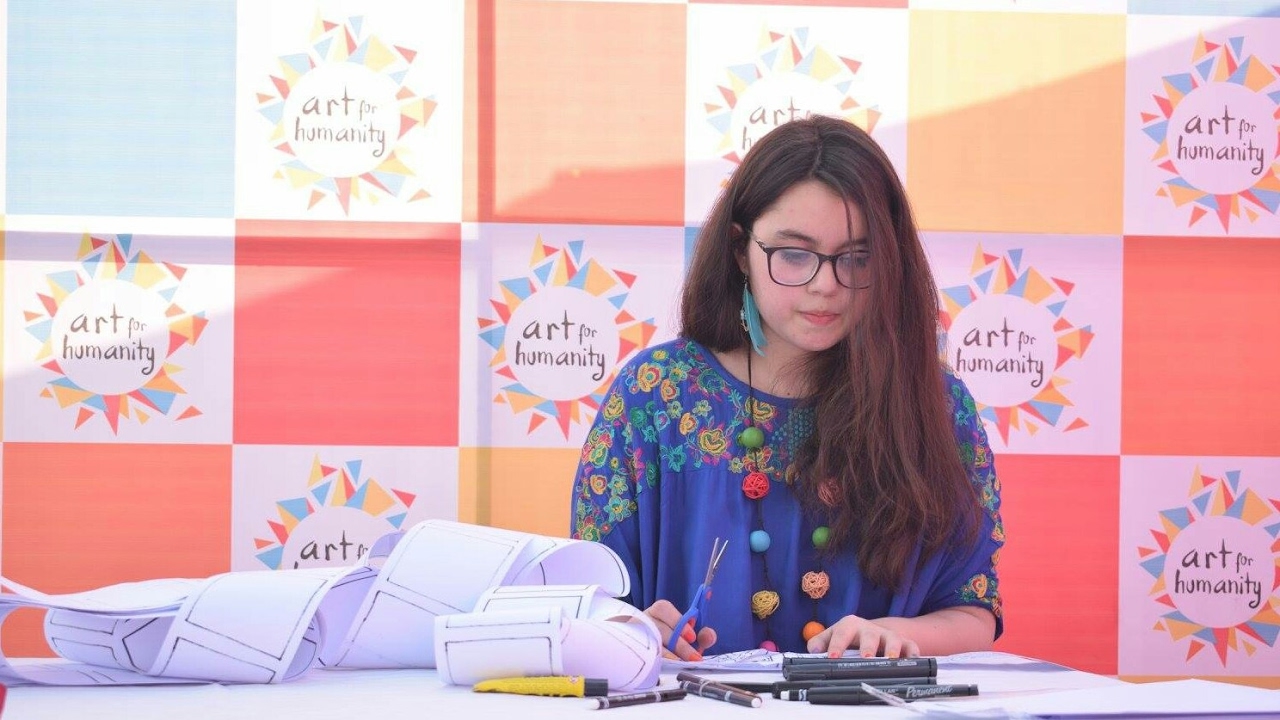 ---
LAHORE: Unaiza Ali Barlas, a 20-year-old Lahore-based artist, cartoonist and animator, has been officially named in the Guinness Book of World Records for creating the world's longest strip.

The comic was completed at Gillani Park Lahore on March 12, 2017 and measured 267.38 metres (877 feet) long. This record was previously held by Suhas Palimkar of India. The measurement was undertaken by a professionally certified civil surveyor and observed by four official witnesses.

Pakistani kid 'kicks' his way to a world record




All evidence of the record claim was complied and sent to the Guinness team which recently declared the record as valid.

Speaking about how it all began, Unaiza said that she has always been passionate about drawing cartoons and wanted to do something special for the country on its 70th Independence Day.

"While scrolling the Guinness website, I came across a certain record which matched my field entirely. It was held by India and I decided to take it up as a challenge," she said.

She began working on the comic during the gap year taken after completing her high school education.

"I had to cut papers and join it together till it was the required length and began drawing on a strip. It took about a year of hard work," she said.

According to Unaiza, arranging the comic to be evaluated by the Guinness team was a challenge as well. Some 50 volunteers had to manage the comic to just unroll it, making sure that it stays in place.

According to her, the theme of her comic strip, titled "The Exit", was selflessness. "For me is not just a piece of art since I intended it to be a single story with a powerful message for the youth," she said.

"My parents weren't exactly sure of what I was doing in the beginning but as they saw the roll getting bigger and seeing how the story was developed, they began supporting me," Unaiza remarked.

The cartoonist said she has dedicated her passion towards art and humanity.  Her charity organisation "Art for Humanity" and is also running a charity campaign for Edhi Foundation.

She is currently working as an animation artist on Pakistan's first 2D hand-drawn cartoon movie and aims to continue working with her team of volunteers and fellow artists.

Story synopsis

The story of 'The Exit' revolves around a man named Jack who is absolutely fed up with his life inside the comic strip. It is not fun living in a black and white box frame since Jack believes that life could be better outside the paper.

Pakistani martial artist makes world record by crushing 77 cans with his elbow

After struggling to get out of the box through various schemes that turn out to be fraud, Jack is faced with the bitter truth of life and goes through a process of exploring himself and realising self-worth.

The story conveys a message that no good comes from living in one's own fantasy world and people must strive to achieve the maximum from what is already given and excel in the contemporary world. The story also gives a message to not feel disheartened from failures, as they always come with an opportunity to learn something.


COMMENTS (3)
Comments are moderated and generally will be posted if they are on-topic and not abusive.
For more information, please see our Comments FAQ