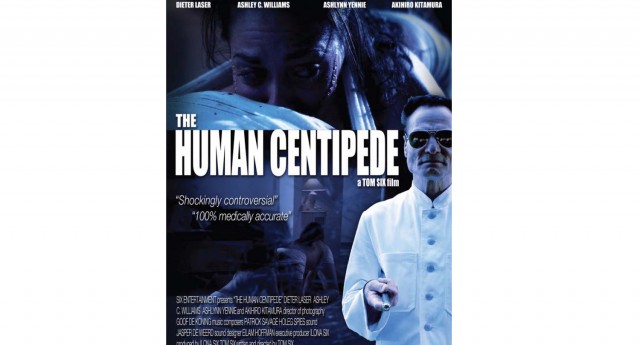 ---
Whether viewers end up enjoying The Human Centipede (The First Sequence) or not, they should appreciate the creative genius that is Tom Six and this highly controversial creation.

Call it an oral-anal fetish, biological horror, or good fun, The Human Centipede is one of a kind. The concept is simple: Dr Heiter is the latest addition to that time-honoured profession, the Mad Scientist. He once specialised in separating conjoined twins, but later discovers that creating a chain of conjoined beings (the first being "my sweet 3-dog") is much more fun. Incidents follow an obvious path given that this is a horror movie: two American party girls travelling through Germany find themselves in the middle of a forest after their car breaks down. Looking for help they come to the only house they can find.

Of course this belongs to Dr Heiter, who is only too happy to have them in his home, and in his hands. The horror in this movie is not in the formation of the centipede (for the title and the trailer already tell us this is to be expected). The horror comes from the survival of this human centipede, for individuals are stitched together anus to mouth, ensuring that the centipede has one digestive tract. It is the process by which nourishment is administered to the centipede body (with Dr Heiter's encouraging cheers of "Feed her! Feed her!") that is a sequence no viewer, however jaded, shall be likely to forget in a hurry.

And considering the amount of horror we are accustomed to in cinema and increasingly on the news, that's no mean feat. Also, following in the tradition of horror movies that believe nothing is so horrifying as history, THC comes with an embedded socio-political commentary. Tom Six intentionally created a German villain, echoing Germany's brutal invasion of the Netherlands. That the Germans had a proclivity for subjecting human subjects to gruesome scientific experimentation during World War II ties nicely into the fact that the other characters in this movie are Japanese and American.

It is also ironic that the one person in the centipede who is able to talk (the first person in the chain-Katsuro), speaks only Japanese. The American girls are thus able to understand Dr Heiter when he speaks in English, while Katsuro speaks only Japanese, creating a language barrier, and rendering another mouth useless. Perhaps the most interesting aspect of this movie is its claim of being "100% medically accurate." Six has stated in interviews that his creation of the human centipede, while entirely his brainchild, was medically informed by surgeons.

According to Six and his research, if the human centipede is provided with IV drips for nutritional purposes, it may survive for an extended period of time. That is perhaps the most horrifying thought of all, except for this one, a sequel is already in the making.

Published in the Express Tribune, May 23rd, 2010.
COMMENTS (1)
Comments are moderated and generally will be posted if they are on-topic and not abusive.
For more information, please see our Comments FAQ