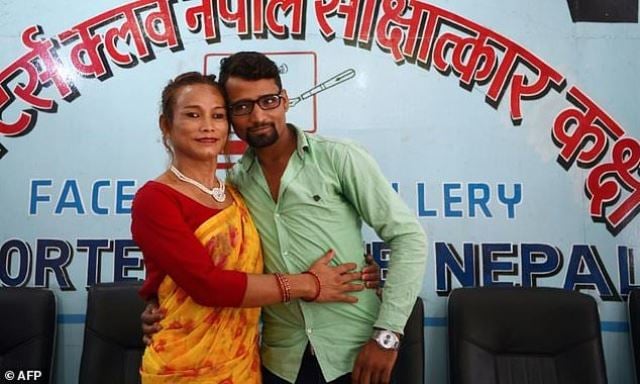 ---
KATHMANDU: A Nepali transgender woman and a man registered their marriage, a first in the country, the couple said Saturday, despite an absence of laws legalising same-sex or transgender unions.

Monika Shahi Nath, 40, who legally identifies as a third gender, married Ramesh Nath Yogi, 22, in May and was able to register it in their home district Dadeldhura in western Nepal last month.

"I have successfully registered my marriage with my husband," Nath said at a press conference, where she showed her marriage certificate.

"This is also my attempt to awaken our government to make legal changes. Others like me should also have the right to marry the person they love," she told AFP.

Gay marriage 'only matter of time' in N.Ireland: Irish PM

Nepal's law is silent on same-sex or transgender marriages despite a 2015 expert committee recommendation to legalise same-sex marriages following a Supreme Court order to enshrine the rights of sexual minorities.

Pinky Gurung, president of the Blue Diamond Society which works on behalf of sexual minorities in Nepal, said that the wedding was an achievement for their movement.

"This is a beginning. But we need to see the government take action to legalise marriages for our community and enact the necessary laws," said Gurung.

However, a lack of legal clarity on the issue could jeopardise the marriage.

German parliament legalises same-sex marriage

"Validity of the same-sex or third-sex marriage can be questioned even after marriage registration if it is against the existing laws," said Deepak Kafle, Home Ministry spokesperson.

Legal experts said that the couple could also face allegations of polygamy -- which is illegal in Nepal -- as Yogi has an existing wife, and two children, prior to this marriage.

Nepal already has some of the most progressive policies on homosexuality in South Asia.

In 2013 Nepal introduced citizenships with a third gender option and began issuing passports reflecting the same in 2015.
COMMENTS
Comments are moderated and generally will be posted if they are on-topic and not abusive.
For more information, please see our Comments FAQ