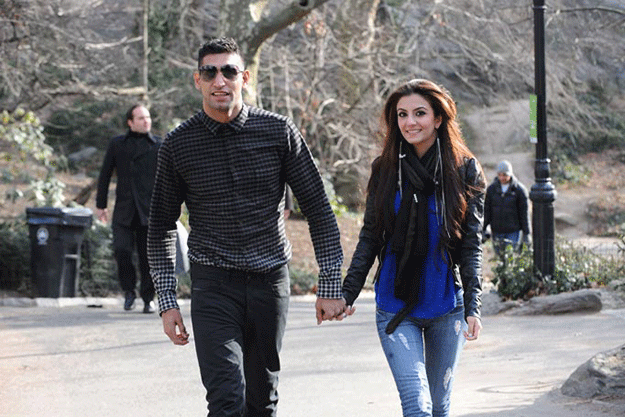 ---
After months of ridiculously-gone-public problems, comprising a family spat, rumours of a sex tape and cheating allegations, Amir Khan and his wife Faryal sensationally split last night.
Amir Khan, Faryal Makhdoom part ways
The boxer, from Bolton, who is worth £23million, announced their split over Twitter in an update reading 'So me and the wife Faryal have agreed to split. I'm currently in Dubai. Wish her all the best'.
The heated argument that proceeded is worlds away from the humble couple who gushed about one another at their engagement back in 2012 - but that's not the only thing to have changed.
In the seven years that the couple have been together Faryal has undergone a dramatic transformation from her humble days as a student, reports Daily Mail.
Amir and Faryal first met when she was 19 and he was 24 through mutual friends at a party in New York seven years ago.
At the time, the businesswoman, who runs a cosmetic company, was studying political science and journalism at Rutgers University School of Arts and Sciences in New Jersey.
Amir Khan denies claim his Twitter is hacked
She adopted a modest approach to fashion with photos from their early days of dating seeing Faryal opt for fitted pencil skirts and jeans.


A more recent Instagram post of the model reveals a lower neckline and a higher cheekbone, making Faryal look drastically different.


Official photos see Faryal dressed in a deep red sari and elaborate jewels performing a ring exchange before their family.
However, despite Faryal's clear committal to Islam then the now model has since faced criticism over the way she dressed from members of her husband's family.
Faryal claimed that she was bullied by members of the Khan family previously stating that she was considered a 'bad Muslim' if she bared any skin and claims she was even cropped out of family photographs.
The model also claims she came under fire from the family for having plastic surgery.
In an Interview last year she said: 'I was in Pakistan with Amir's family when his brother tweeted: 'Michael Jackson isn't dead. He lives with us.' He was trying to say I'd had plastic surgery.'
However, in March this year Faryal admitted that she was partial to a few nips and tucks in an interview with you magazine.
She said: 'Because of lack of sleep, genes, dehydration, I get bags under my eyes and I wanted to get them lightened. So I went to my doctor, Simon [Ourian, a renowned cosmetic surgeon in LA] – he's Kim Kardashian's doctor.'
Faryal has also had fillers in her cheeks. 'I like high cheekbones,' she told the magazine.
However, she denies that this surgery adding: 'I've never had plastic surgery. Fillers and plastic surgery are two different things and I want people to understand that.'
Randhir Kapoor: Taimour Ali Khan definitely has the Kapoor genes
She went on to say that it was thanks to her husband's money that she was able to alter her looks.
She added: 'If other women had this money and if they had a husband who was famous, they would do it, too. If I wasn't married to Amir Khan, I'd probably be a regular girl and I might not do it. But I'm in the limelight, I go to events, so it's part of my life now.'
Have something to add to the story? Share it in the comments below.