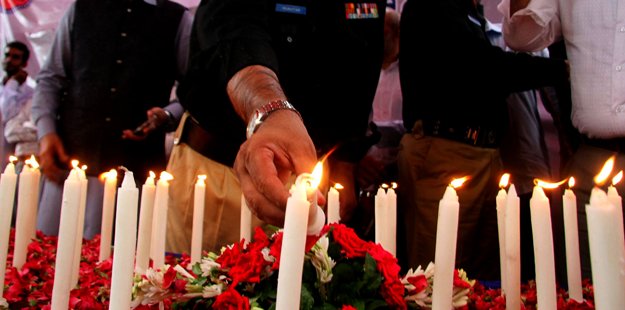 ---
LAHORE: In order to pay homage to the sacrifices of the police department, National Police Martyrs Day was observed in all the districts of Punjab on Friday.

Ceremonies were held at district police lines and offices to pay tribute to the sacrifices of 1,402 police officers/officials martyred since 1970 in the province. Families of the martyred, police officials and civil society participated in these events. Senior police officials also laid floral wreaths at the graves of the of the martyred policemen and visited the aggrieved families to present gifts to their children.

In Lahore, Qul Khawani was held at Qila Gujjar Singh Police Lines. A ceremony with the families of the martyrs and police officials was organised at Alhamra Hall. Inspector General of Punjab Police Arif Nawaz, CCPO Amin Wains, other senior police officers and members of civil society participated in the ceremony.




"I salute to all martyrs who sacrificed their lives in the line of duty and to save the life, honour and property of the citizens which is the noblest cause in the world," Nawaz said while speaking on the occasion. He said, "It was a matter of honour and pride for me that I am the commander of a force which is the heir of over 1,400 martyrs." A DIG rank officer is deputed at the CPO to look after the welfare of the families of the martyrs and to solve their problems at their doorstep and a DSP rank officer at district level for the purpose.

"All the families of the martyrs are like my own family and I will try my level best to solve their problems at the earliest. For the welfare of the families of the martyrs and to solve their problems, Lahore police has launched an app Welfare Eye." Addressing the ceremony CCPO Lahore, Capt (retd) Amin Wains said history of Lahore police was full of sacrifices. "We once again assure you that every officer and official of the Punjab Police is always ready to sacrifice his life for the protection of life, honour and property of the citizens," he remarked.

"Police have become the main target of terrorists and we lost our best officers during the last few months but our morale is still high because the sacrifices of the martyrs gave us courage to serve the nation with zeal and zest."

Published in The Express Tribune, August 5th, 2017.