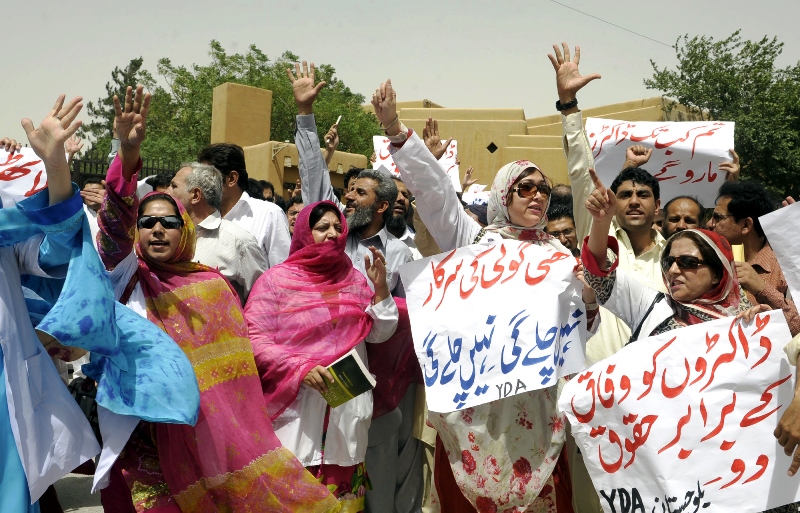 ---
RAWALPINDI: Patients at the three allied hospitals in the garrison city were left stranded on Wednesday as young doctors at both the outpatient and inpatient departments went on a strike.

The strike had been called after police charged against doctors in Lahore on Tuesday.

Patients at Holy Family Hospital (HFH), Benazir Bhutto Hospital (BBH), District Headquarter Hospital (DHQ) faced problems owing to a shortage of doctors on duty.

The three hospitals, allied with the newly established Rawalpindi Medical University, are the main tertiary healthcare institutions in the city catering to the needs of patients coming from as far as Khyber-Pakhtunkhwa, Azad Kashmir, and across the Rawalpindi district.

On Wednesday, patients had to wait for longer for their medical check-ups at OPDs owing to shortage of medical practitioners with young doctors staying away from the departments, operation theatres, wards, and emergency departments.

While the hospital administrations managed to operate the outpatient departments (OPDs) by reassigning senior doctors, the shortage of manpower, however, impacted visiting patients.

On average, around 2,000 patients visit the OPDs of HFH every day with most patients visiting the gynaecology department.

In BBH, around 1,500 patients visit different departments every day, primarily kidney patients. As far the DHQ is concerned, over 1,000 patients visited the hospital with most of the cases there relating to emergencies, a senior doctor said while requesting not to be named.

He added that OPDs and emergencies remained functional during the strike, but admitted that the shortage of doctors created problems for visiting patients. Meanwhile, officials of the Young Doctors Association (YDA) said that Wednesday's strike was part of a larger strike observed across the Punjab.

YDA President at BBH Dr Rana Muhammad Azeem told The Express Tribune that the strike was only observed at tertiary care hospitals, while YDA members working at basic and rural health units did not observe the strike and continued to work as usual.

Dr Azeem explained their strike as a protest against the Punjab government's treatment of young doctors protesting in Lahore on Tuesday.

He added that police used water cannons, batons, and tear gas against doctors who had gathered peacefully to protest against the non-implementation of their long-standing demands.

The YDA official said that police had later arrested seven members of their Lahore chapter and they had to negotiate with the government for their safe release. But the government, he said, did not negotiate with YDA over their demands.

The YDA has been protesting for the provision of security at public hospitals, revocation of the central induction policy, the resignation of the health secretary, provision of health risk allowance, regularisation of ad hoc medical officers, and permission for medical officers inducted through the Punjab Public Service Commission to complete specialisations.

Published in The Express Tribune, August 3rd, 2017.