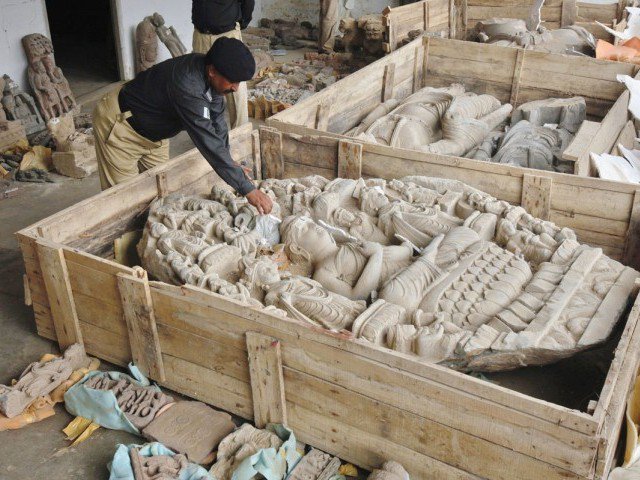 ---
PESHAWAR: Forty artifacts belonging to the Gandhara civilisation will be exported to Seoul, South Korea to be displayed at a three-month long exhibition titled 'Gandhara through international cooperation'.

The federal department of archaeology and museum has issued license to President of Inter Art Channel Yang Soo Kim and Director Khyber-Pakhtunkhwa (K-P) Directorate of Archaeology and Museums Dr Abdul Samad, for temporary export of the Gandhara civilisation relics to Seoul for exhibition.

The exhibition, which will begin on June 29 and will continue till September 30, will only feature the relics of Peshawar museum which are currently on display at the museum.

PTDC to organise Buddha Heritage exhibition in October

According to the officials of K-P directorate of archaeology and museums, the exhibition will help attract international tourists by showcasing the rich archaeological treasure trove of K-P.

"It will promote tourism and archeological site of the province," said Asif Raza, the curator of Peshawar museum.

Raza said that delegations from 50 countries will participate in the inauguration ceremony of the exhibition in Seoul where different aspects of Gandhara civilization will be discussed. He added that the exhibition will also help in attracting donations for further archaeological excavations and for the preservation of archaeological sites.

Preserving history: First Pashto book on Gandhara civilisation published

An agreement was signed between the government of Pakistan and Inter Art Channel President Yang Soo Kim last year to exhibit the rich Buddhist archaeological treasure with an aim to create awareness about the life of Buddha and attract tourists to the archaeological sites of Pakistan.

Under the agreement, the government of Pakistan had agreed to provide the artifacts of Gandhara civilization for the exhibition.

A copy of license available with The Express Tribune issued under Pakistan Antiquates Act 1975 states that the transportation of these relics, from Pakistan to Seoul, will be made under the clause (a) of sub rule (1) of rule 3 of Exports of Antiquities Rule 1997.

Raza said that the K-P has some of the most magnificent archaeological sites most of which belong to the Gandhara civilization. He said that the province can earn huge revenue if international tourism to these sites is increased.

The relics which will be transported to Korea also include some 25 relics based on the life of Buddha. They also include the Kanishka casket or Kanishka reliquary, dating back to the first year of the reign of Kushan emperor Kanishka. This relic was found in 1992 in the relic chamber of the great stupa at Shah-Ji-ki Dheri in Peshawar.