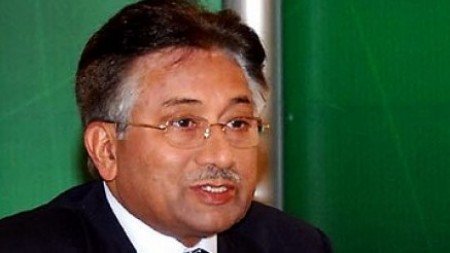 ---
WASHINGTON: Former President Pervez Musharraf said on Wednesday that he would appear before the Supreme Court, if summoned.

Addressing a press conference in Washington, Musharraf said that he has no regret on decisions taken by him in his tenure.

The former president recalled the Lal Masjid Operation, Akbar Bugti's murder, NRO and decisions taken regarding the judiciary and said that all these decisions were taken in light of the situation at the time.

Strongly rejecting the UN Report on Benazir Bhutto's assassination, he said that the government of that time provided security to her but she came out of her vehicle herself.

He said that to involve him and the former DGMI in the murder of the former prime minister is a conspiracy. He said that the martyrdom of Benazir Bhutto, no doubt was a great loss but there is a need to move forward.

Musharraf said that he would return to the country soon to participate in elections.

Meanwhile, Musharraf's legal advisor Chaudhary Fawad said that the Supreme Court cannot summon Musharraf on NRO as the Apex Court cannot summon legislature and can only review the law.

Talking to a private TV channel, Fawad said that the consent between Prime Minister Syed Yousaf Raza Gilani and PML-N Chief Mian Nawaz Sharif on appearance of Musharraf on NRO reflects their unawareness about the constitution and the law.
COMMENTS (7)
Comments are moderated and generally will be posted if they are on-topic and not abusive.
For more information, please see our Comments FAQ