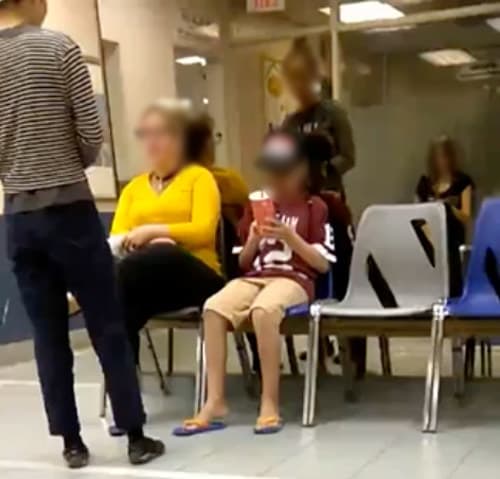 ---
A Canadian woman caused a stir in a clinic in Mississauga, Ontario when she refused to get her sick son treated by "Paki doctors".

The woman was caught on video repeatedly asking staff for a white doctor to treat her son for chest pain. After a staff member told her that her son needed to see a pediatrician and that no one on their staff met her demands, things quickly escalated. Staff members told her to go to a hospital instead of the clinic, but the woman said she had already been there but they only had "Paki doctors" with "brown teeth".

Could your baby be racist? This study suggests so...

"They only have brown doctors and they did not help my kid," she can be heard saying in the video recorded by Hitesh Bhardwaj, one of the people who confronted the lady for her racist tirade.


"It was quite shocking," Bhardwaj told Buzzfeed News following the incident, adding that the experience left him perturbed for the rest of the day.

As the woman grew more and more irate at the lack of white doctors, other people in the waiting room intervened. "Your child clearly has more issues with you being his mother than him needing to see a doctor," said one woman. "You are extremely rude and racist."

Oxford University apologises after eye contact racism claim irks autism community

"You're brown, you're brown," the irate woman responded. "You're all attacking me because I'm white."

Police also reached the clinic when given a call and investigated the matter. "Police spoke to all involved parties," Constable Mark Fischer told Buzzfeed News. "A resolution was found that had the female's son checked by a doctor at the clinic." Fischer said there were no charges laid. The clinic declined to comment.


#Mississauga clinic where woman demands a white doctor has released this statement on the incident. pic.twitter.com/KvgqFkH59j

— Linda Ward (@LindaWardCBC) June 20, 2017


The Mississauga area where the incident happened is considered the most diverse part of the country with around 54 per cent of the population containing visible minorities, including South Asian descent communities.
COMMENTS (17)
Comments are moderated and generally will be posted if they are on-topic and not abusive.
For more information, please see our Comments FAQ