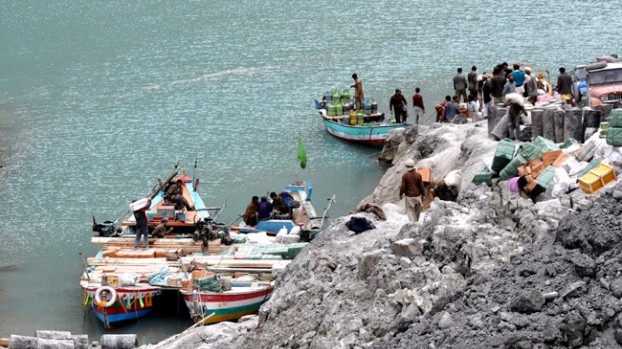 ---
GILGIT: The Federal Government has provided Rs 60 million to the  Gilgit-Baltistan government for the relief operation.



Federal Minister for Population Welfare Dr Firdous Ashiq Awan said the federal government provided one month 'Ration' to the affected families of the massive landslide on Wednesday.

She stated that construction of the Karakorum Highway damaged portion has begun and the government and army are taking special measures to save the adjoining areas.

She said that 16 kilometer area adjoining to Hunza lake is inundated due to thawing of the glacier and it also affecting nearby areas including Aainabad, Sashkat and Gilgit.

Earlier, the Gilgit-Baltistan Chamber of Commerce President, Javed Hussain spoke exclusively to Express on Wednesday and appealed to the government to provide compensation to the affected traders.

He said that nearly 10,000 traders have been affected by the loss in trade. The traders had set a goal to increase imports to Rs10 million this year, but their ambitions were cut short by the crisis.

A 22-kilometer portion of the Karakoram Highway was damaged by the flooding that has blocked the trade route between Pakistan and China.

The helicopter service for the affected people of Hunza lake was suspended on Wednesday.

The water level in the landslide-created lake continued to rise at an average of 4.2 feet that suspended the helicopter service. Boat services were suspended earlier, owing to the dangerously high water level in the lake.

An overnight rain spell coupled with the landsliding has triggered fears regarding a further surge in the lake. The water level is now rising at 4.2 feet per day as compared to the earlier 3.8 feet per day. There are concerns that the lake may spillover prior to the government's deadline.

Around 36 villages may be submerged if the banks of the lake burst. Locals from these villages have been evacuated to safer grounds.
COMMENTS (3)
Comments are moderated and generally will be posted if they are on-topic and not abusive.
For more information, please see our Comments FAQ