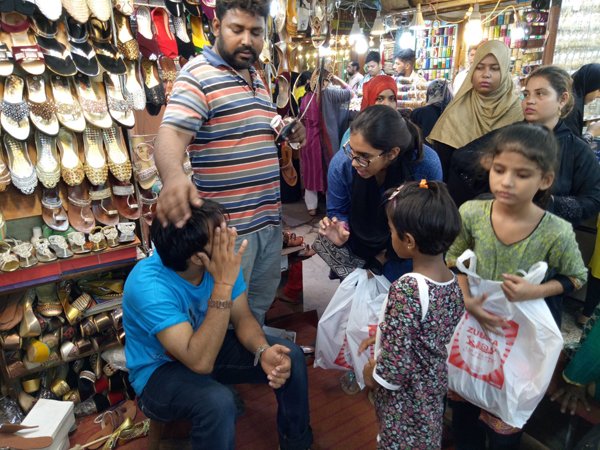 ---
KARACHI: In the excitement of Eid, what could be better than unprivileged children buying clothes with dignity instead of receiving them as a charity?

An organisation, Kumak Pakistan, has been executing this idea for the last two years, as they take children of different charity schools to markets so that they can buy clothes of their choice along with a pair of shoes for Eid.

Sharing the philosophy behind taking schoolchildren to markets, Kumak Pakistan co-founder Haya Fatima Iqbal said they do not want the children to feel as if someone is doing them a favour, instead they want them to choose whatever they want from the market, as it will not hurt their sense of dignity.

Pakistan ranks high on list of helping strangers

Iqbal added that they started this activity two years ago and the number of children has increased every year since then. This year, they are taking 130 children to the market, which is almost twice the number they had last year. The children belong to Tauseef Memorial School situated in Gulshan-e-Iqbal's Block 13, she said, adding that they have also planned to take children of another school for a similar shopping trip before Eid.




Out of the 130 children, 64 were taken to a market in Federal B Area on Sunday, while the shopping activity for the rest is planned for today (Monday).

Iqbal shared that more than 20 volunteers accompanied the children during the market visit on Sunday, with one volunteer assisting and overlooking four children. "It is not easy for volunteers but it is more of a learning for them as these children are very choosy and we also want them to take as much time as they want for their shopping," she said.

Humna Zaheer, a young schoolgirl, bought colourful sandals. The sandals match my Eid dress, she said, adding that she would show them to her parents, who would be very happy.

Edhi Foundation donates 10 ambulances to KMC

Another 12-year-old kid, Babar Haroon, shared that he bought a blue kurta. He was particularly happy, as his favourite celebrity wore a similar kurta on TV.  Babar added that he would buy Peshawari sandals to wear along with the kurta on Eid.

The shopkeepers also cooperated with the volunteers. A volunteer, Mariyum Qaiser, shared that once the shopkeepers learned about the activity, they not only charged nominal prices but also helped connect them with other shops for a wider variety of choices for the children.

For another volunteer, Khizar Siddiqui, the excursion was a fulfilling experience.  The activity helped me learn patience and I felt happiness mixed with satisfaction after that, he said, adding that smiles and excitement on the faces of children after having bought their dresses for Eid was enough to prove that Kumak had achieved its goal. It requires just a little effort to spread smiles in society, he summed up.