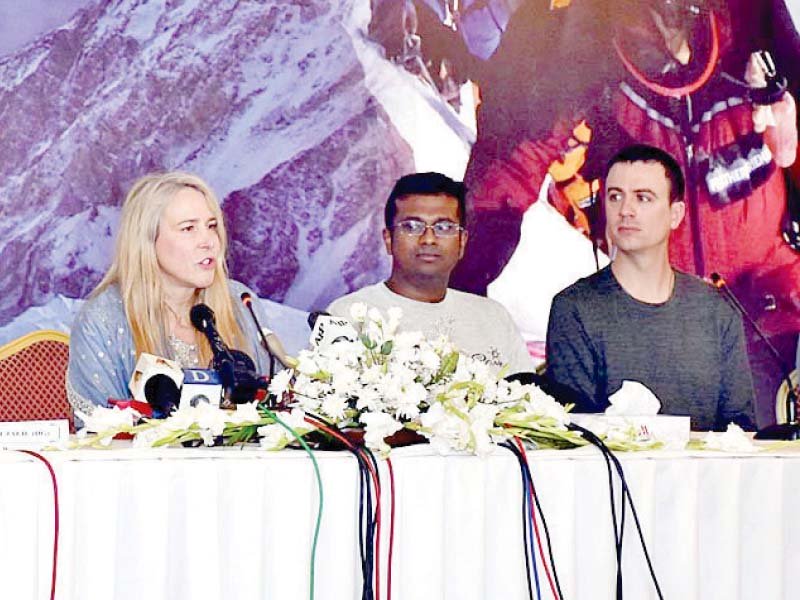 ---
ISLAMABAD: Mountaineer Vanessa O'Brien and her team have returned to Pakistan to make a third bid at scaling K2 – the world's second highest mountain – and make her the first British-American to scale the 'savage mountain'.

She would also be the first foreigner to carry Pakistan's flag to the top of K2, should she manage to reach the summit.

O'Brien has made two unsuccessful attempts to scale the mountain in successive years but hopes it would not turn into three out of three.

British mountaineers to go for records in K2 attempt

In 2015, O'Brien's attempt was called off after warm weather caused by El Nino and soft ice forced them to turn back from camp-II of K2 (6,700 metres). The subsequent year in 2016, O'Brien managed to reach camp-III (7,350 metres). But after their equipment and supplies were buried in a surprise avalanche, her expedition, along with those of a number of other climbers had to be called off.

"So if I were to extrapolate this story, maybe Camp-IV (7,688m) and summit in 2017?" she asked hopefully at a press briefing in Islamabad on Friday.

"After all, Everest had a smashing season this year as did other 8,000m peaks such as Dhaulagiri and Makalu this spring," she said while referring to the dozens of summits on Everest and surrounding peaks.

O'Brien is no stranger to mountains. She holds a Guinness World Record for climbing the highest peak on every continent – seven summits - in just 295 days, the fastest by a woman.

Quoting Muhammad Ali Jinnah, O'Brien said that "the power of women is stronger than both the power of the sword and the power of the pen."

Acknowledging the difficulties they faced over the past two years, O'Brien said they were still keen to climb the peak.

This year, as many as 52 climbers have registered with the government to climb K2. Spanish climber Oscar Cadiach is currently on an expedition to Broad Peak, the last of the 14 peaks of 8,000m and above which he has not climbed.

Hospitality

O'Brien praised the hospitality, warmth and friendship she has received in Pakistan every time she has visited.

"If the people of Pakistan, their hospitality and friendship do not win you over, then you have not seen a natural beauty that Pakistan holds," she said adding that while the bulk of tourists in Gilgit-Baltistan were domestic tourists, the number of foreign visitors could be increased if the word gets out.

First Pakistani expedition sent off to K2 summit

Further, she said that the country's strength of 160 peaks which are taller than 7,000m, present "principally the largest, tallest, most precious peaks in the world, clearly visible from space."

Chasing records

Apart from the temptation of seeing the world from the top of the world's second highest, and arguably its most dangerous mountain, O'Brien and her team of nine climbers is seeking set a host of records.

The team, which includes three Chinese, two Americans, two Icelanders, one Norwegian and one Singaporean, aiming to climb three of the five 8,000m peaks in Pakistan including K2, Nanga Parbat, and Broad Peak.

They hope to set records for the first Chinese on Nanga Parbat (a record left incomplete after a Chinese attempting to scale the killer mountain was among the 10 mountaineers killed in a 2013 terror attack), first Icelander on K2, first American lady to summit K2, first British lady to summit and descend K2(Briton Julie Tullis had climbed K2 in August 1986, but she was caught in a storm during her descent and died), first Chinese to climb all 14 mountains which are higher than 8,000m, and the first Nepalese to climb all 14 peaks without oxygen.

Pakistani flag

Pakistan Government External Publicity Wing Director General Shafqat Jalil, meanwhile, handed over the Pakistan flag to the expedition team with the hope that they would raise it when they summit.

O'Brien is also carrying the UN Women's flag as well as flags of the UK and US to raise on the K2 summit.

Published in The Express Tribune, June 17th, 2017.