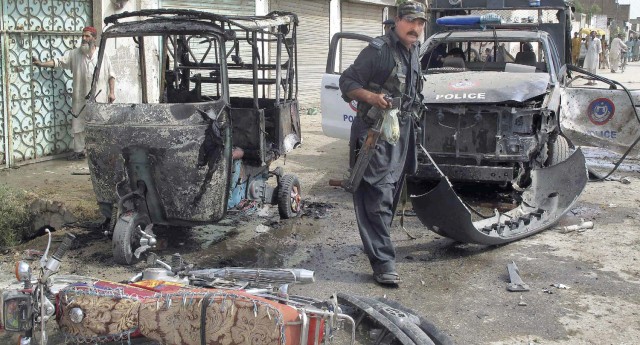 ---
PESHAWAR: At least 13 people were killed, including three children and their mother who were burnt to death after a bomb blast in Dera Ismail Khan on Tuesday.

The blast that killed three policemen is said to have targeted DSP Iqbal Khan. The explosion injured 14 people, including two girls and a woman. A police official said that DSP Kulachi tehsil Iqbal Khan was on his way to his office in his official vehicle, when a remote controlled bomb fitted in a parked bicycle was detonated at around 9 am. The blast also killed the DSP's gunman and driver instantly. The explosion destroyed the DSP's vehicle and set fire to electricity wires, a rickshaw and another coach nearby.

Three children, two girls and a boy, along with their mother were in the rickshaw at the time and were burnt to death, hospital administration said. "A rickshaw caught fire and burnt people to death. It was horrible," a witness told a news agency Reuters. Tehreek-i-Taliban Pakistan (TTP) has claimed responsibility for the attack. "Iqbal Khan was so active against the Taliban. We planted that bomb and claim responsibility for this attack," said Azam Tariq, the main spokesperson for TTP told a news agency AFP by telephone. "We will target all such people. These sorts of policemen are on our hit list," he added, speaking from an undisclosed location. Police officials confirmed that the DSP had actively taken part against operations in militants in Kulachi tehsil and had been receiving threats."He also arrested several militants from his area," Rahmatullah Khan, a local police official said.

Rescue teams reached the blast site and rushed the injured to the District Headquarters Hospital. Doctor Nasir Malik Akhtar, head of the casualty department said the medical staff had declared a state of emergency to cope with the victims. Police cordoned off the area after the incident and the Bomb Disposal Unit said at least four kilograms of explosives were used in the attack. Security was tightened at entry and exit points of the district following the blast. Funeral prayers for the slain policemen were offered at the police lines. Dera Cantt police has registered a case against unidentified terrorists.

Prime Minister Yousaf Raza Gilani while condemning the blast has directed that the best medical facilities should be provided to the injured. Dera Ismail Khan district borders South Waziristan, where the military launched an offensive against militants last year. A campaign of bombings blamed on Taliban and al Qaedalinked militants has killed more than 3,300 people since July 2007 across the country.

WITH ADDITIONAL INPUT FROM AGENCIES

Published in the Express Tribune, May 19th, 2010.
COMMENTS
Comments are moderated and generally will be posted if they are on-topic and not abusive.
For more information, please see our Comments FAQ