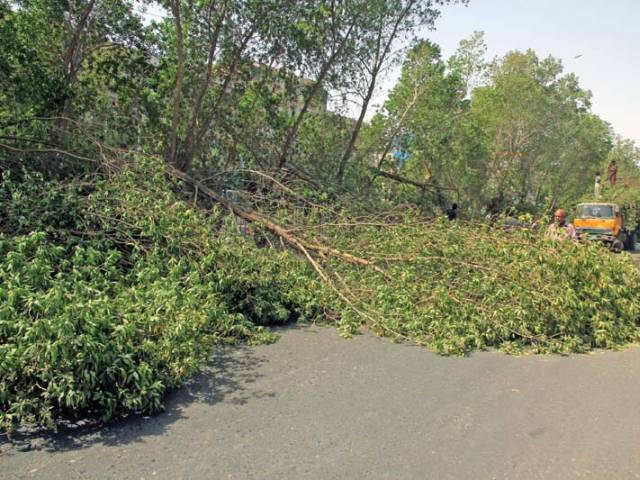 ---
ISLAMABAD: Three days after a storm uprooted a number of trees in the capital, the Capital Development Authority (CDA) have yet to remove all the branches and fallen tree trunks from the roads, posing a threat to motorists.

Fallen trees can be seen in sectors G-8, G-7, G-6 of the capital.

"Three days after the thunderstorms, fallen trees have yet to be removed," said Farhanullah, a resident of Sector G-8.

20-year-old trees cut down along Sharae Faisal

"I commute to my office ever day and a huge tree occupies a part of the Pakistan Institute of Medical Sciences road which could cause an accident," he added.

Mehmood Ahmed, a resident of Sector G-7 complained that "huge trees which have fallen on different roads of the sector present an ugly look."

"I urge the concerned authorities to remove these trees as soon as possible because it may cause a mishap," Ahmed added.

"I have seen a number of trees that have fallen after the recent thunderstorms in Sector G-6 alongside the footpaths which give a deserted look and which have not been removed," said Anum Ahmed, a resident of Sector G-6.

Meanwhile, an official of the CDA said that they were working on removing the fallen trees.

Hundreds of trees chopped for metro bus in Islamabad

"Teams have been deployed in various sectors to remove the trash. We are trying to provide support to remove the trees which were bent by the storms," he said, adding that all the fallen trees would be completely removed in the coming week.

Published in The Express Tribune, June 10th, 2017.
COMMENTS
Comments are moderated and generally will be posted if they are on-topic and not abusive.
For more information, please see our Comments FAQ