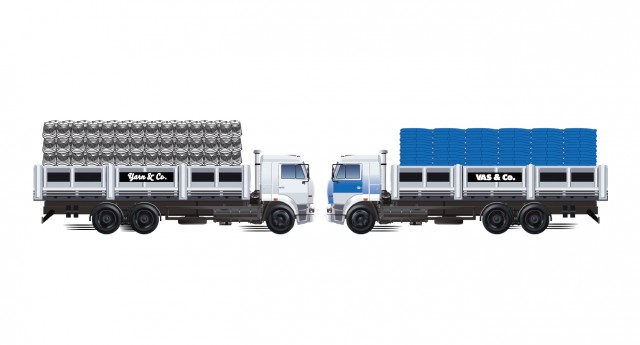 ---
KARACHI: Yarn manufacturers on Tuesday staged protests against the imposition of 15 per cent regulatory duty on yarn exports and said that the ban would damage the industry's 40-year image in export markets.

The yarn manufacturers (spinners) had decided last week to close industries for two days a week in protest against the duty. All Pakistan Textile Mills Association (Aptma) Chairman Anwar Ahmed Tata told The Express Tribune that the restriction on yarn exports "is a stupid decision of the government". He reiterated that the spinners exported only surplus yarn after meeting local needs. However, the value added textile sector said that a huge shortage of yarn in the local market had compelled them to ask the government to either impose a ban on exports or slap regulatory duty. When asked, Tata said: "Average production of yarn in the country is 240,000 tons per month.

I welcome value added textile people to prove their claim that our production was low at 172,000 tons." "We have met with parliamentarians and expressed our reservations about the duty. We hope that the government will rectify its mistake," he said. "How will the value added industries survive if the spinners stop yarn production?" he asked and said that they would shut down their factories if they went out of business.

The government should reduce the prices of cotton, if not the spinners could not reduce yarn prices. "This is a commodity business and we work on marginal gains," Tata added. "There is no economic justification for the duty on yarn as it hurts the image of yarn manufacturers in export markets," he said. Aptma Punjab Chairman Gohar Ejaz said: "It was a remarkable strike. Spinning industries were closed from Karachi to Khyber." When asked why the spinners did not sell yarn in local markets at international rates, he said: "There is no yarn shortage in the local market.

Contrary to it, there is only cotton shortage which is hampering yarn production." "Value added textile mills want to buy yarn at 85 cents instead of 100 cents because of which they mislead the government about yarn exports," he said. Over 10,000 workers took part in each of the three major protests in Islamabad, Karachi and Multan, Ejaz claimed. Jawed Bilwani, Chairman Pakistan Apparel Forum, a representative body of a dozen value added textile associations, said the government should not consider removing the yarn duty.

The spinners and the value added sector both gave their points of view on Monday before the National Assembly Standing Committee on Textile. "We hope that the committee will further strengthen our position after meeting both the stakeholders," he said. Replying to a query, Bilwani said, "no spinning mills were closed during Tuesday's protests and their claims were misleading." It should also be very clear that the spinners did not represent all the textile industries of the country and they should call themselves a spinners association instead of Aptma, he said.

There has been an acute shortage of yarn in the local market but Aptma officials were continuously denying this fact because of their vested interests, he claimed. Yarn manufacturers and value added textile mills have been engaged in a tussle over the issue of yarn exports. Spinners say that the duty will harm yarn exports, causing a loss of $200 million per month while value added mills say that the decision is in national interests which will support the downstream textile industry and earn foreign exchange.

Published in the Express Tribune, May 19th, 2010.
COMMENTS
Comments are moderated and generally will be posted if they are on-topic and not abusive.
For more information, please see our Comments FAQ