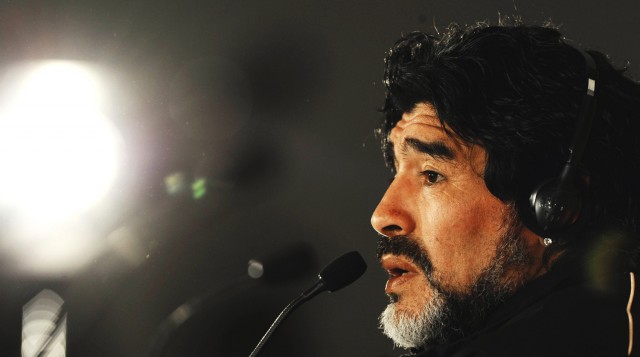 ---
Diego Maradona's World Cup career has been marked above all else by Argentina's 1986 victory in Mexico and his expulsion for doping from the 1994 finals in the United States.

In between, there were tears of frustration and despair in Rome after Argentina's defeat in the 1990 final. He has pursued the World Cup since he told an interviewer as a 10-year-old that it was his dream to win the trophy. He goes to South Africa with that goal in mind once again, hoping to emulate Germany's Franz Beckenbauer by winning the trophy as coach having done so as captain, and has been heard saying: "I know how to win the World Cup." No one doubts his experience as a player but few have faith in his ability, with minimal coaching experience, to get a talented squad of players to act as a coherent unit, something that was lacking during the qualifiers.

He has been criticised for believing that winning the World Cup is all about spirit, rather than tactics. "You have to put all your heart (in it), you've got to give your life," he said on a recent television chat show. The proud Maradona is known to do things his way and has not wanted to take advice or help from his technical directors or coaching staff, preferring as he has done all his life to surround himself with yes-men. Argentina could go all the way, or a well-drilled team with the right tactics could dump Maradona's side out early on and his reaction to such an outcome is anybody's guess.

Ballack lawyer targets Boateng Michael Ballack's lawyer said he intends lodging a complaint against Portsmouth's Kevin-Prince Boateng for the "intentional" tackle which ended the Germany captain's World Cup hopes. Ballack was ruled out of the 2010 World Cup finals Monday after a scan revealed torn ligaments in his ankle following a heavy tackle by Germany-born Ghanaian Boateng during Sunday's FA Cup final win. Ironically, Ghana are in Germany's Group D at the World Cup.

For the German's lawyer, Michael Becker, Boateng set out to injure Ballack intentionally. "To me, what Boateng did was not simply an insidious tackle but was designed to intentionally injure," Becker said. "We are now looking into all of our legal options, which could lead to both civil and penal consequences." Fans on Tuesday vented their anger on dozens of websites, calling him 'public enemy number one; and setting up chatrooms called '82 million against Boateng' or 'Anti- Boateng Group'. Boateng, born in Berlin to a Ghanaian father and a German mother, has had an uneasy relationship with German fans ever since his days playing at Hertha Berlin.

Published in the Express Tribune, May 19th, 2010.