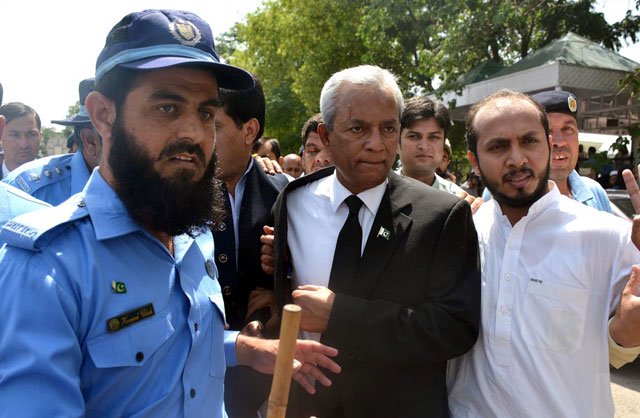 ---
ISLAMABAD: Pakistan Muslim League-Nawaz (PML-N)'s Senator Nehal Hashmi has sought time to submit his response against the Supreme Court's show cause notice on his alleged hate speech against the apex court judges.

During Monday's hearing, the PML-N leader told a three-judge bench of the apex court that lawyers were too scared to fight his case. He requested the bench that his case may be listed for hearing after Eidul Fitr as he wanted to visit Saudi Arabia to perform Umrah.

The lawmaker also informed the bench, headed by Justice Ejaz Afzal Khan, that he could not get the material produced by office of the Attorney General of Pakistan in the case.

Govt running campaign against bench, JIT: SC judge

Hashmi said he belonged to the legal fraternity, and did not appear before the judges who had taken oath under the Provisional Constitutional Order (PCO) during the historic lawyers' movement. "Even my house was attacked during that time."

However, the apex court bench asked the PML-N leader to submit his response to the court's show cause notice on June 16. "It seems you're taking the case lightly as your reply should have been submitted today [Monday]," remarked Justice Ijazul Ahsen.

'I'm being victimised'

Later, talking to media outside the top court, Hashmi claimed his statements had been distorted.

"Me and my party's image has been purposefully tarnished," he said, claiming he could not be sentenced until given a change to defend himself.

Police register case against Nehal Hashmi

Accusing Pakistan Tehreek-e-Insaf (PTI) chairman Imran Khan of distorting his statements, Hashmi warned he would take the PTI leader to court over contempt.

The PML-N lawmaker had to quit his Senate seat after a video went viral on May 31, showing his diatribe against 'those investigating' Prime Minister Nawaz Sharif's family. However, his resignation is yet to be accepted by the Senate chairman.

Hashmi's 'threatening' speech at an event in Karachi on May 28 drew instant reaction from the Supreme Court, with Chief Justice Mian Saqib Nisar taking suo motu notice and summoning the PML-N leader to appear in person before the implementation bench supervising the work of the Panamgate JIT.