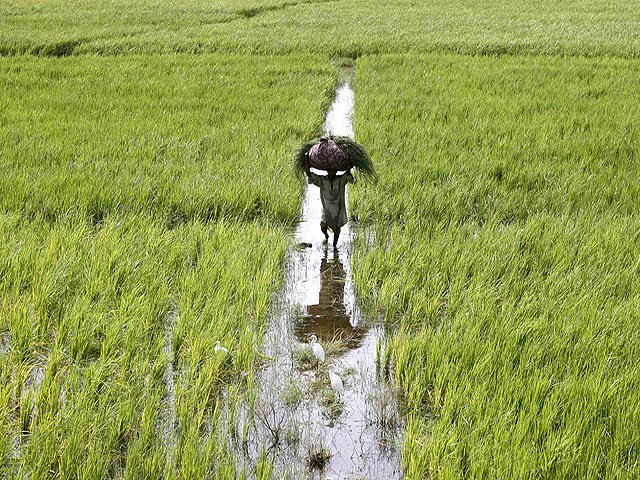 ---
KARACHI: The China-Pakistan Economic Corridor (CPEC) is expected to significantly improve economic conditions in Pakistan.

The major projects listed on the CPEC portal, developed by the Pakistan-China Institute, include transportation infrastructure, energy production, industrial cooperation and the Gwadar port city.

However, surprisingly, the potential impact of CPEC on the agricultural sector is rarely discussed in major economic forums.

Agriculture is backbone of our economy: Jhagra

Recent media reports on CPEC's long-term plan, a study by the National Development and Reform Commission and China Development Bank, emphasise that the agricultural sector is a major beneficiary of CPEC. Though regarded as a 'redundant document' by government officials, the long-term plan introduces public discourse on the impact of CPEC on the agricultural sector. CPEC will provide a vast transportation network that will connect Khunjerab in the north to Gwadar in the south-west. This will automatically boost the economy of several remote rural towns located on the network as the transportation time to urban centres and markets will shrink considerably.

Furthermore, this network will provide agricultural producers an opportunity to export not only to China, but also to other countries as CPEC improves Pakistan's trade integration into the global economy.

As rural employment and agro-based industrial output rely heavily on the agricultural sector, it is essential to determine the impact of CPEC on the sector and the existing trading patterns of agricultural products.

Agriculture contributes approximately one-fifth to Pakistan's gross domestic product (GDP) at constant base prices of 2005-06. About $3.7 billion was generated from food products in FY16. The major contributor was rice, which contributed around $1.8 billion.

Total export receipts from the food product dropped more than 15% between FY15 and FY16. Exports of basmati rice, which contributed 32% to overall rice export receipts in FY16, declined more than 31% in the year. However, exports of other types of rice increased 7%. The textile sector recorded a decline of 5.8% in export receipts between FY15 and FY16. Receipts from raw cotton, which stood at $153 million in FY15, fell more than 49% between FY15 and FY16.

Production linkages

Though total export receipts dipped approximately 8.8% between FY15 and FY16, the agricultural sector reported a greater fall. The total output of the agricultural sector, in constant prices, dropped between FY15 and FY16. Other sectors of the economy reported positive growth rates.

Although export receipts for agricultural products are sensitive to price fluctuations in the world market, it is imperative that the government develops domestic and international production linkages in order to reduce the volatility in total exports and the income earned by farmers.

Agricultural products accounted for less than 8% of the global trade in 2015, but constituted approximately 22% of total exports from Pakistan. Around 43% of the agricultural products exported globally in 2015 were raw material and 42% were consumer goods.

On the other hand, around 53% of the agricultural products exported from Pakistan were consumer products and 29% were raw material.

The agricultural goods produced in Pakistan typically have lower linkages with the manufacturing sector. The lower percentage of agricultural raw material exported from Pakistan indicates that the domestic agricultural producers are not likely to participate in global production linkages.

Unlike manufactured consumer products that may involve substantial value addition through different stages, agricultural consumer products are likely to be of low value and be sensitive to fluctuations in global commodity prices. Given that geographical and climatic constraints may limit diversification of agricultural products, it is important to determine specific products that will increase the integration of the agricultural sector into the global economy.

Trade with China

Approximately 6.5% of agricultural products exported from Pakistan were destined to China. Agricultural products accounted for 15% of total exports to China from Pakistan in 2015.

Approximately 56% of agricultural products exported to China were consumer goods, 29.6% were intermediate goods and 14.7% were raw material. On the other hand, agricultural products accounted for 6.5% of total imports into China in 2015. However, 71.2% of agricultural products imported by China were raw material and 18.1% were consumer goods.

The top three exports of agricultural products to China from Pakistan constitute less than 2% of China's total world import demand of agricultural products.

Non-tariff barriers

One of the biggest challenges exporters of agricultural products may face are the non-tariff measures, primarily in the form of sanitary and phytosanitary (SPS) and technical barriers to trade (TBT), imposed by destination markets.

Problems riddle agriculture sector, say experts

Importing countries impose such measures to not only increase consumer awareness of the quality of products imported through proper labelling, marking and packaging, but also prohibit the imports of products harmful for human consumption.

Agricultural products typically face higher incidence of SPS and TBT measures than manufactured products. For instance, exports of rice to China face several measures such as microbiological criteria of final product, certification and testing requirements and geographical risk eligibility that can substantially influence the cost of exporting the agricultural goods.

Without a plan to support the agricultural sector, their exports may further stagnate.

The writer is Assistant Professor of Economics and Research Fellow at CBER, IBA

Published in The Express Tribune, June 5th, 2017.

Like Business on Facebook, follow @TribuneBiz on Twitter to stay informed and join in the conversation.