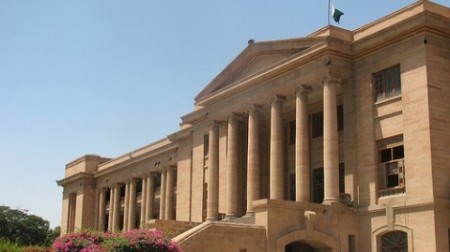 ---
KARACHI: The Sindh High Court (SHC) granted protective bail before arrest to Federal Interior Minister Rehman Malik on Tuesday against a surety of Rs100,000 in two National Accountability Bureau references prepared in 2004.

A division bench, comprising Justice Amir Hani Muslim and Justice Syed Zakir Hussain, directed Malik to surrender or appear before the trial court at Rawalpindi to face proceedings on or before May 22. On Tuesday, the minister approached the SHC to seek transitory or protective pre-arrest bail to avoid a possible arrest in Islamabad after the Lahore High Court (LHC) dismissed his appeals against in absentia conviction in the NAB reference cases on Monday.

The LHC bench observed that, "Mr Malik had absconded for a long period and deliberately avoided service of court notices". Meanwhile, the Supreme Court also held that conviction in absentia was a final order, therefore, only a judicial forum could declare it void by admitting an appeal. According to the prosecution, NAB filed a reference based on an FIR in which Malik was accused of receiving two cars worth about Rs1.8 million from Toyota Central Motors, Karachi, through its Deputy Director Wasim Ahmed as an illegal gratification for purchase of official vehicles by the Federal Intelligence Agency (FIA).

NAB filed a second reference based on a case registered by the FIA on the complaint of Hashim Raza, a resident of Lahore, who alleged that Malik, along with Additional Director Muhammad Sajjad Haider and others, raided his house in August 1994 and stole about 233 grammes of jewellery and Rs700,000 in cash. Meanwhile, Rehman Malik's counsel Akhtar Hussain submitted that the NAB references against his client were filed in 1997 and 1998 on the basis of cases registered by the FIA, where he was then posted as additional director-general. Malik was tortured in jail and survived a murder attempt, Hussain submitted, adding that the minister was forced to leave the country with his family and had to take refuge in London.

The counsel contended that the Accountability Court-IV Rawalpindi declared him Malik a proclaimed offender without following a legal procedure, as neither notices nor non-bailable arrest warrants were issued to him. On January 7, 2004, the accountability court announced a three-year sentence in absentia under Section 31-A of the NAB Ordinance 1999 without holding an independent trial. Hussain submitted that after returning to the country, Malik immediately appeared before the trial court and moved an application for setting aside the convictions under the National Reconciliation Ordinance (NRO), through which conviction and sentences under Section 31-A were declared void ab-initio (to be treated as invalid from the beginning).

According to the counsel, the trial court accepted his applications and terminated the convictions in both references on March 5, 2008. However, all cases were revived after the Supreme Court's judgment of December 16, 2009, striking down the NRO. The court order said: "... Without touching merits, we grant protective bail to the petitioner to enable him to surrender or appear before the Accountability Court-IV at Rawalpindi on or before May 22, 2010 to face proceedings culminating from reference...subject to furnishing surety in sum of Rs 100,000 each and PR bond in like amount for satisfaction for the Nazir of this court. This order, granting protection, shall cease to have effect after the stipulated period or on appearance of the petitioner before Accountability Court-IV at Rawalpindi."

Published in the Express Tribune, May 19th, 2010.
COMMENTS
Comments are moderated and generally will be posted if they are on-topic and not abusive.
For more information, please see our Comments FAQ