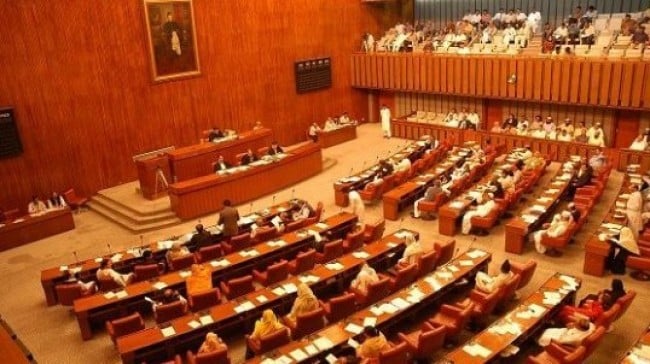 ---
ISLAMABAD: Members of Upper House of the Parliament on Tuesday hailed the 3rd consecutive presidential address to the joint session of the parliament and termed it a good omen.

Pakistan Muslim League-Nawaz leader Ishaq Dar said that the presidential address was a constitutional requirement which was fulfilled by the President Asif Ali Zardari.

He, however, said that the president did not announce anything which could resolve the problems of industries, businessmen, traders and general public. Dar said that the country is facing multiple challenges including economic backwardness, trade deficit, foreign loans, loadshedding,water scarcity and others.

He further said that the government needs to do more home work on Value Added Tax (VAT) and it should not be implemented from this year or it would result in failure.

Raja Zafarul Haq congratulated Saeeda Warsi on becoming memberof the United Kingdom cabinet.

Commenting on the presidential address, he appreciated the role of the President and Prime Minister as well as the political leadership on the 18th amendment bill.

Mushahidullah Baig said that the President spoke about the problems of Balochistan, adding that the government must ensure implementation of Balochistan package to remove the sense of deprivation of the people of Balochistan. Later, the House was adjourned to meet again on Wednesday morning at 10 am.