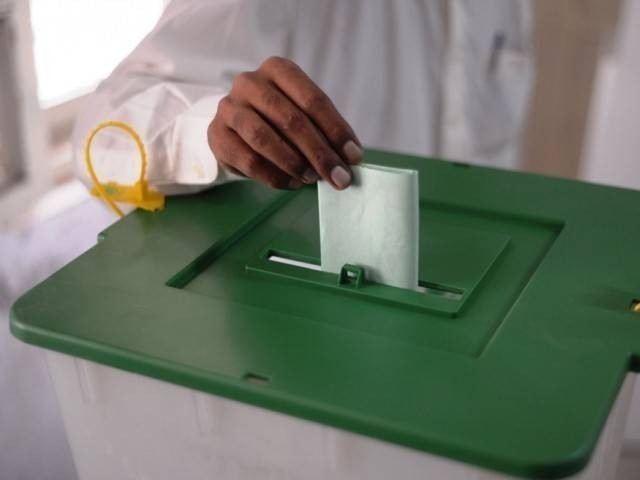 ---
KARACHI: The Pakistan Tehreek-e-Insaf (PTI) announced on Monday its candidate for the upcoming by-election for the Karachi constituency, PS-114.

Speaking at a press conference, PTI Karachi President Firdous Shamim Naqvi, flanked by MPA Khurram Sher Zaman, said the party had chosen Chaudhry Omair, a district vice president of the party, to run for the seat.

Naqvi said 31-year-old Omair held a bachelors degree and ran his own business.

He added that Omair had been selected to represent the PTI in the election because of his affiliation with the party since 2009. Moreover, he added, Omair was young and enthusiastic.

PTI names election commissioner in K-P

Naqvi said Omair and his family were living in Akhtar Colony for the past 55 years.

"Therefore, he is well known in the constituency because of his welfare work," he added.

The constituency comprises Mehmoodabad, Akhtar Colony, Kashmir Colony, Chanesar Goth, Defence View and Manzoor Colony.

The seat was won in the 2013 general elections by Pakistan Muslim League-Nawaz (PML-N) candidate Irfanullah Marwat.

Marwat's victory, however, was declared void by the election tribunal in July 2014 after the runner-up, Muttahida Qaumi Movement's Rauf Siddiqui, challenged the result alleging that the polls were rigged.

On May 11 this year, the Supreme Court dismissed Marwat's appeal against the election tribunal's decision.

PTI eyes 'simpler' intra-party poll structure

Naqvi maintained that the Pakistan People's Party had already resorted to pre-poll rigging and its candidate for the seat, Senator Saeed Ghani, was visiting various areas of the constituency for this purpose.

"The Election Commission of Pakistan should take notice of the pre-planned transfers and postings being carried out to manipulate the election process which is in violation of the electoral rules," he added.

As Marwat has decided to file a review petition against the Supreme Court's decision to disqualify him, he too can run for seat.