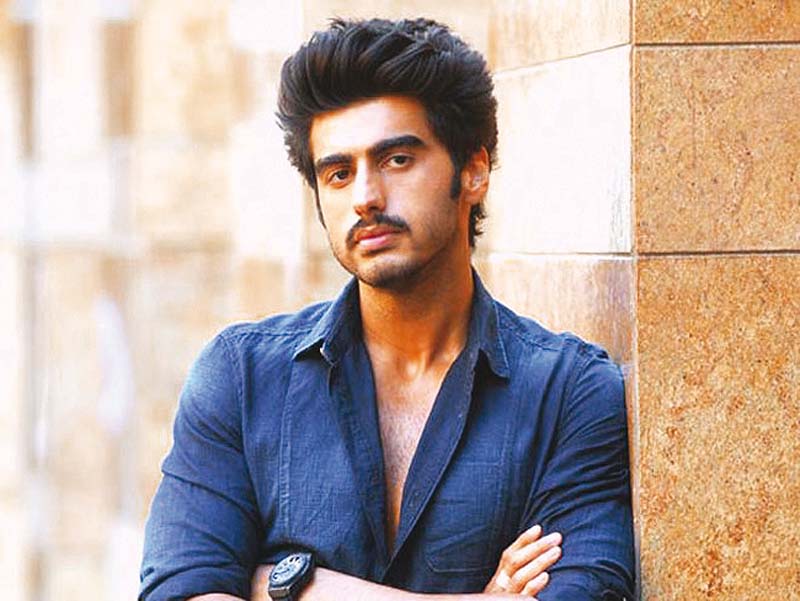 ---
Arjun Kapoor's somewhat sour relationship with his step mother Sridevi is no big secret but what's the deal between him and his step sisters Jhanvi and Khushi Kapoor?
Oddly enough, the Half Girlfriend star has always made it abundantly clear that Sridevi means little more to him than being his father Boney Kapoor's wife. But recently, Arjun was asked about his equation with step sisters Jhanvi and Khushi as well and he clearly stated that he doesn't have one, reported Yahoo! His exact words were: ''We don't really meet and spend time together so it doesn't really exist.''
Damn...talk about calling a spade a spade.
This statement makes it obvious that Arjun has no desire to maintain any relationship with Sridevi or her daughters. And truth be told, we're hardly surprised by that since the actor was immensely attached to his late mother Mona Kapoor.
Sridevi's daughter Jhanvi Kapoor is breaking the internet with her latest dance video
Speaking about her, the very emotional Arjun said, ''How do I reconcile with the fact that she's not here to see that I have created an independent identity for myself, that I run a house, that I've grown up to become everything she wanted me to become?"
"For all the sacrifices she has made for me, there is something as payback which sits here right now as I speak to you. I would have liked her to see that. I wish I was in a position where I could tell her that I have managed to make you proud, Ma," he continued. "There's no respite from the death of a mother. I always tell people that you are allowed to take your parents for granted to a certain degree but don't underestimate the power of having them around. They are your backbone. You think it's there but imagine one day it cracks — you are bound to fall. I have lived my life without a backbone for the last 5 years.''
In an unfortunate turn of events, Arjun actually lost his mother just few days before his debut film Ishaqzaade released in 2012. Ever since then, he has had a tough time coping with both his personal and professional life.
But there was one important person whom he calls his only strength and that is his sister Anshula. In an interview with a news portal, Arjun revealed what his father should have done was taken care of the little one.
Anil Kapoor thinks Indian films operate in a chaotic way
''Anshula has stood by me like a rock. She has gone through far worse. and she's younger than me. I still had 11 years with my father living in the house. I had my mother living with me for 25 but Anshula only got 20," he said. :Imagine a child who has been through a life where the father couldn't be physically around, after they turned five. And the mother who was there physically and then after 20 years, she wasn't there. Imagine the psychological scarring of that child. And still, Anshula is more mature, very well-educated, honest and more sincere than me.''
Arjun being older to Anshula by default ended up taking care of her but things happened the other way round too. On that he said, ''When Mum passed away, my only thought was how will I take care of Anshula? I was prepared to take care of myself, how I would take care of Anshula? It's like having a child when you're least prepared. She is my child in that sense; she's somebody who I am the most protective about. She completed her graduation in the US and passed with flying colours. This was during my film release. She came back to be with me when she could've gotten a great job abroad. Till today, she doesn't accept that she did it for me."
''Anshula ended up working with Google in Delhi when she could've gotten the same job in America. But then she realised that she doesn't want to continue because my life was all over the place. I obviously needed her but I couldn't tell her then," Arjun further said. "She sensed that and now, she's my only strength. She runs the house and my life. She takes care of my medication and my food. These are things that could be taken for granted. But when you don't have a single parent around and your younger sister is doing that for you, while she should be building her own life, I think that is the greatest human sacrifice of all.''
On the work front, Arjun is gearing up for Mubarakan in which he'd be essaying the dual role of Karanveer Singh and Charanveer Singh. The film directed by Anees Bazmee also stars his uncle Anil Kapoor, Athiya Shetty and Ileana D'Cruz in key roles.
Have something to add to the story? Share it in the comments below. 
COMMENTS (9)
Comments are moderated and generally will be posted if they are on-topic and not abusive.
For more information, please see our Comments FAQ