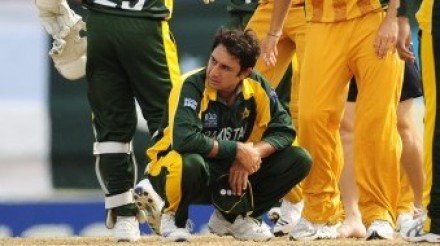 ---
KARACHI: Pakistan offspinner Saeed Ajmal said on Monday the pain of losing the semi-final to Australia still lingers.

"When Hussey hit the last six I was absolutely heartbroken, I am still heartbroken," Ajmal told PakPassion.net. "It was a very emotional and difficult time for me. My team-mates all came up to me and consoled me and told me not to worry, but I was very upset. The pain is there, when you lose a game of this magnitude it hurts really badly".

Wicketkeeper Kamran Akmal told the same website a day before that the team stood behind Ajmal and in no terms held him responsible for the defeat. Ajmal said he received overwhelming support from everyone involved.

"All of the squad, from the players to the coaches to the backroom staff have said to me that I was not to blame for the defeat and they have all said that we played as a unit, we won matches as a unit and we all take responsibility as a unit for the defeat," Ajmal said. "There is no question of anyone pointing the finger at any individuals".

That Ajmal bowled the over was part of a plan, having succeeded in shutting South Africa out of the contest in their previous game. He said he wanted to fire in yorkers to keep Hussey in check, but things didn't go according to script.

"The first delivery was perfect, it was what I had planned, it was a perfect yorker to Mitchell Johnson and it only went for a single," he said. "However, then the wind seemed to pick up and I was bowling into the wind which made me lose my line and length. I dragged the next delivery down and instead of bowling yorkers into the block hole for the remaining deliveries as I tried to fire the ball in at the batsman, the deliveries ended up being quick and became length deliveries, which was what Hussey was hoping for. He was then able to get the elevation on the deliveries, instead of having to dig them out".

Ajmal said the best way to shrug off the disappointment was to start bowling again. "The best way for me to get over this match is to start playing cricket again, get the ball in my hand and to start bowling again.

"Thankfully the Asia Cup is not far away and I am looking forward to playing in that tournament in Sri Lanka. I have faith in my ability and I am confident that I can bounce back after the match in St Lucia".

The fans react to the loss

While Ajmal still grieves over the loss, cricket fans have found a new way to express their feelings through a viral video on YouTube.com.
COMMENTS (10)
Comments are moderated and generally will be posted if they are on-topic and not abusive.
For more information, please see our Comments FAQ