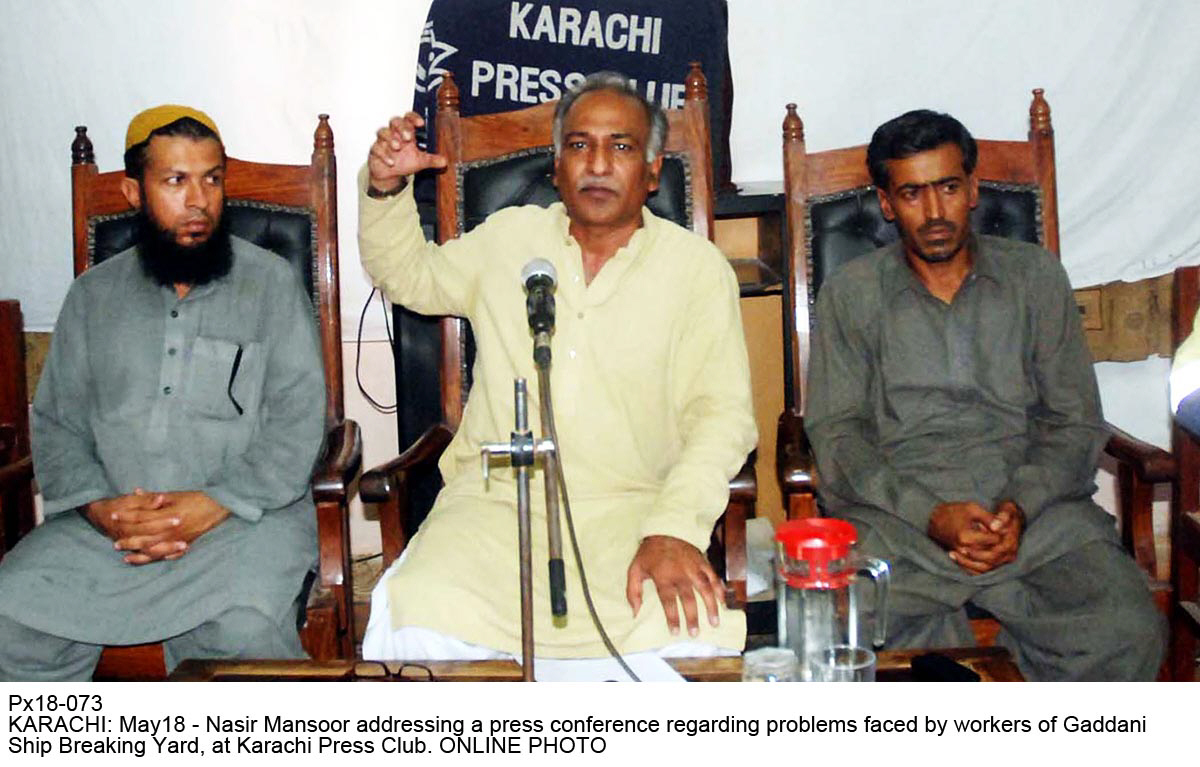 ---
KARACHI: Majority of the workforce in the country comprises young people and if they are kept deprived of their due rights, they will be left with no option but to revolt, warned labour leader Nasir Mansoor during a talk on Saturday.

National Trade Union Federation Deputy General Secretary Mansoor was speaking at a talk at the Irtiqa Institute of Social Sciences. Before his speech, a documentary, titled Death of Mankind, based on the lives of workers was shown to the audience.

Mansoor opened his speech with a comment from the documentary by a worker who wondered whether his condition would ever change or if he would simply die hoping it changes. The labour leader said this showed how much the workers in the country were saddened over their exploitation.

Safeguarding the rights of female workers

"In this beloved country of ours, we have seen the worst of industrial disasters. Every time, those responsible for them have assured that these kinds of things will not happen again, but yet they do," he lamented, saying that the government and capitalists have formed a nexus to continue with their wrongdoings.

Among the attendees was Saeeda Khatoon, the mother of a teenage boy killed in the Baldia factory fire. Mentioning her case, Mansoor said she has been seeking justice for almost five years now but all in vain. "Nearly all the political parties, including those now ruling, had pledged her justice but nothing has materialised as yet," he said.

Similarly, he said the Gadani Ship-Breaking Yard had witnessed on November 1 last year the worst disaster in its history. Twenty-six people were killed and dozens others were wounded. "The incident created uproar across the country and the world. The federal government ordered special measures for safety. Still, nothing came out of it," he said.

Home-based workers step out of homes to celebrate working women

He said there were numerous examples depicting the apathy of the authorities towards labourers and each of the cases held high promises of justice and redemption by the government and companies involved. "Still, not an inch of implementation is anywhere to be seen."

The country is going through a crucial process of developing the China-Pakistan Economic Corridor (CPEC), said Mansoor. "Billions of dollars are involved in it. The state has put all its machinery at stake just to make CPEC happen, not caring about what was right and wrong."

Workers' rights : Labourers demand 'real' raises

Criticising the state's stance on the project, he said that an artificial environment was imposed upon the people in which speaking against CPEC was deemed as blasphemy. "Questions are raised on your patriotism if you say a single word about the wrongdoings involving the project."