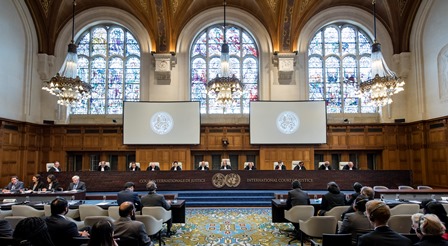 ---
ISLAMABAD: The opposition parties should refrain from passing any judgment on issues of national security as it will be against the sovereignty of the country, cautioned Minister of State for Information and Broadcasting Marriyum Aurangzeb on Thursday.

The statement comes in the wake of the verdict by the International Court of Justice (ICJ) whereby Pakistan has been told to "take all measures to ensure that [Indian spy Kulbhushan] Jadhav is not executed till the final decision of this court".

Marriyum said Pakistan fought the case before the ICJ professionally, urging the opposition parties to stop politicising the matter.

"One should think before passing any judgment or comments over issues pertaining to national security as we cannot compromise on it," she said, adding that no leniency would be shown to the person talking against national security.

ICJ orders Pakistan not to execute Jadhav until its final order in case

"It is time for the opposition parties to unite over the issues that are threatening our national security rather than critcising the government," said Marriyum, informing that the law and justice department is thoroughly reviewing the ICJ verdict.

"Pakistan has perused the case involving Jadhav at the ICJ, taking into account the national security affairs and followed all the legal procedures under constitutional bindings," she said. "Jadhav has openly admitted to being a Research and Analysis Wing agent and to being involved in sabotaging peace in Pakistan."

Pakistan had assigned the best and highly professional lawyer to fight the case, said the minister, also cautioning the media to play a responsible role in reporting on the issues related to national security.

Jadhav had been apprehended by Pakistani security forces on March 3, 2016 in Balochistan on charges of terrorism and spying. On April 10, 2017, Jadhav was sentenced to death by a Field General Court Martial.