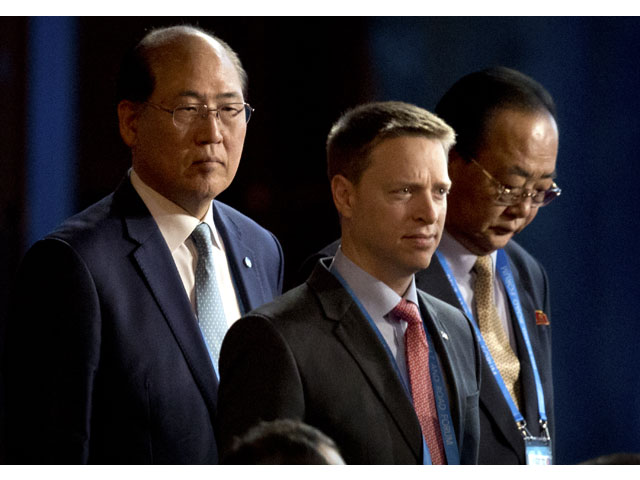 ---
BEIJING: US companies are ready to get involved in China's Silk Road project, an American official said Sunday, as Washington strikes an increasingly cooperative tone with its biggest trade rival.

President Donald Trump was scathing about China's trade policies on the campaign trail, but relations have warmed in recent weeks as the US leader softens his stance.

At an international summit in Beijing showcasing China's ambitious One Belt, One Road initiative, US delegate Matt Pottinger said American companies had "much to offer" the project.

"US firms can offer the best-value goods and services required over the life of a project," said Pottinger, who is special assistant to Trump and the National Security Council's senior director for East Asia.

India skips China's Silk Road summit, warns of 'unsustainable' debt

"US firms have a long and successful track record in global infrastructure development, and are ready to participate in Belt and Road projects."

Representatives from dozens of countries are taking part in the forum, which China hopes will spur a revival of the ancient Silk Road trade routes and increase its influence on global trade and geopolitics.

But Pottinger warned that the project's success would depend on a number of factors, including "transparency" in government procurement, "high-quality financing" to avoid unsustainable debt burdens and broad participation.

The project, unveiled by President Xi Jinping in 2013, spans some 65 countries representing 60 percent of the world's population and around a third of global gross domestic product.

The China Development Bank has earmarked $890 billion for some 900 projects.

Pottinger's comments follow an agreement Friday between Beijing and Washington to give US beef, natural gas and certain financial services access to China's massive market.

China to invest $50b to develop Indus River Cascade

It was one of the first concrete results of trade discussions that began a month ago, when Xi and Trump launched a 100-day action plan on economic cooperation during their meeting at the US leader's Mar-a-Lago resort in Florida.

'Obstacles could arise'

China's Belt and Road initiative is "fantastic" but obstacles could arise from some countries who see it as a potential threat, a senior official from Venezuela said on Sunday.

"We wish for those other countries in the world not to make any obstacles to the success of this initiative," said Felix Gonzalez, vice minister of foreign affairs for Middle East, Asia and Oceania, on the sidelines of a two-day Belt and Road summit in Beijing.

Gonzalez declined to name specific countries that may look to hinder China's Silk Road programme.

Venezuela's trade and investment with China is "gigantic and enormous" and more was expected from Asia's top economy, as well as from other Silk Road members, he added.

He didn't give any specific investment figures for new projects expected to be signed under the initiative.
COMMENTS
Comments are moderated and generally will be posted if they are on-topic and not abusive.
For more information, please see our Comments FAQ