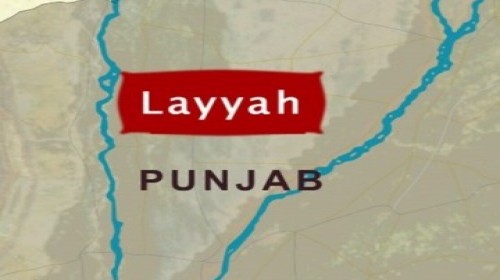 ---
LAYYAH: A sub-inspector and a constable have been arrested on the charge of selling a 16-year-old child who is allegedly a sex worker.

The girl was released on bail in Multan and discovered by the accused officials in Layyah. Chaudhary Zahid and Murtaza Lashari of the Layyah city police station were part of the raiding party that discovered three girls aged 16, 19 and 23 from an outhouse in Thal Development Authority (TDA) in Chak.

Local people had accused a man named Saleem of running a brothel in the area and informed police officials.

Saleem was arrested and detained at City Station while the girls were shifted to the Multan Central Jail for Women where an FIR was registered against them.

The girls were eventually released on bail and their families were informed.

The older girls, who were from Multan were sent home with their families.

The 16-year-old, who belonged to Lahore, was not met by any of her relatives and was eventually left on her own.

The girl is believed to have travelled back to Layyah where she was intercepted by Zahid and Lashari. The sub-inspector and the officer sold the child to a mutual friend named Fakhruddin for Rs15,000.

They did not report back to their senior officer, inform the police station or contact a child welfare organisation. They were discovered when the child's sister Ruby arrived in Layyah and contacted several journalists, lawyers and senior police officials and informed them that her sister was missing since her arrest.

Investigations led police officials to the house of a man named Fakhruddin who was arrested after the girl was found there.

During investigations, he revealed that he had "purchased" her from the subinspector and the constable. The officers were arrested on the orders of the district police officer (DPO) Chaudhary Saleem and an FIR was registered.

The officers were presented before city magistrate Malik Jawad Khokhar and were sent to jail on a judicial remand. The magistrate denied them bail and will hear opening arguments and decide on their bail applications on May 19.

The girl was sent home with her sister and refused to talk to the media. She told police officials at the City Station that she was sold against her will to a man named Fakhruddin by the accused. She is a resident of Hussainabad, a lower income area in Samnabad in Lahore.

The 16-year-old had been missing from home since May 10 but her parents failed to register a complaint. Inspector Ilm uddin stated that the girlwas probably sent to Saleem so could earn the family a good monthly income. She had apparently been living at the outhouse and it is likely with the permission of her parents. He stated that she had returned to Layyah instead of her hometown to meet with an accomplice of Saleem.

He added that the sub-inspector and the constable will be duly prosecuted.