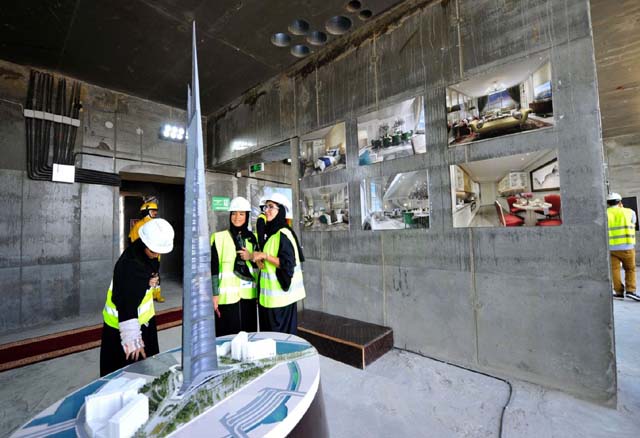 ---
JEDDAH: The completion date for the world's tallest tower has been pushed back to 2019, a Saudi Arabian billionaire said Thursday, almost six years after launching the record-breaking project.

Jeddah Tower is to rise more than a kilometre (almost 3,300 feet), placing it above Dubai's Burj Khalifa.

How Pakistan can benefit from Saudi Arabia's Vision 2030

"The project was delayed... but it'll open (in) 2019," Prince Alwaleed bin Talal told AFP during a visit to the site beside the Red Sea. Alwaleed chairs Kingdom Holding Co whose affiliated Jeddah Economic Company is developing the spire-topped landmark.

The project contractor Saudi Binladin Group was among construction firms in the kingdom that suffered financially after a collapse in oil revenues from 2014.

The company, which developed other prominent buildings in Saudi Arabia, was founded more than 80 years ago by the father of deceased Al-Qaeda leader Osama bin Laden. Binladin Group late last year said it had completed payment to 70,000 laid-off employees.

Alwaleed first announced plans for the tower in August 2011, saying it would take 36 months to build after the start of construction. By November 2014, a four-storey foundation was in place and Alwaleed said the building would be finished in 2018. But that was before the kingdom felt the full force of a drop in oil revenues.

In November 2015, Kingdom Holding said Jeddah Economic Company had reached a financing deal with Saudi Arabia's Alinma Investment to finish the Jeddah Tower, which then had 26 floors.

Saudi Arabia unveils plan to build entertainment city almost as big as Las Vegas

Alwaleed on Thursday rode a construction elevator about 30 floors to meet reporters in the concrete shell of the building, which already offers spectacular views over the rest of Jeddah and the adjacent sea. Kingdom Holding has shares in the Euro Disney theme park, Apple, News Corporation and US banking giant Citigroup, among other firms.