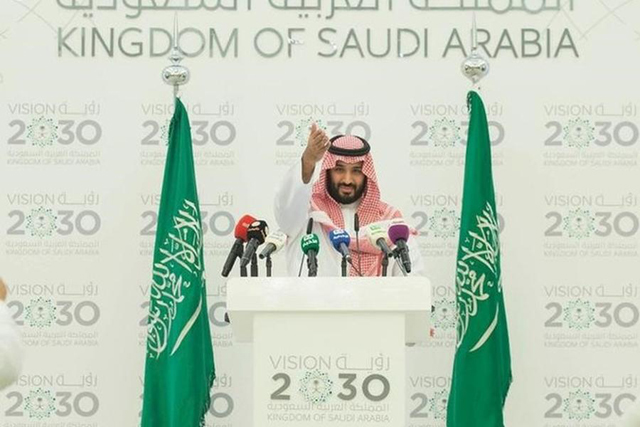 ---
DOHA: Prince Salman bin Abdulaziz Al Saud took the reign of Saudi Arabia in turbulent times with wars imposed in the country's neighbourhood and petroleum prices nose-diving to the lowest in decades.

To the world, it was a mere change in the figurehead leading a country run by a large family. It turned out to be otherwise. After consolidating his political control followed by radical shakeups in the cabinet, the new king set the course for reforming the economy and the society in a manner unprecedented in recent history.

Outlook: Saudi Arabia projects $53 billion deficit in 2017

In principle, it was agreed that the hydrocarbons, or the black gold on which the country had heavily relied upon since 1930s, had to be replaced with more futuristic resources. The economic model, the bureaucratic setup and the nation's image needed a makeover; hence Vision 2030 and the National Transformation Plan (NTP).

The king's son, the Deputy Crown Prince and the finance and defence minister, Mohammed bin Salman, led the country branding 2015 'a year of quick fix', 2016 'a year of organised quick fix' and 2017 'a year of vision'. The kingdom aims to swiftly lessen its traditional dependence on petro-chemicals by 2020 and completely alter its revenue mix by 2030. The NTP offers a new social contract based on liberalised state-society relationship.

vision 2030

The unprecedented first Initial Public Offering of Aramco shares and its transformation into the Public Investment Fund is aimed at creating $2 trillion worth of sovereign wealth fund, the largest in the world.

Meanwhile, Saudi Arabia aspires to raise Foreign Direct Investment from 3.8% of GDP to the international standard of 5.7%. In a historic first, Riyadh coproduced its first military plane with Ukraine while cooperation endures quietly with other nations like China, Turkey and Pakistan.

Yet another salient feature of the vision is issuance of green cards intending to gradually erode the much-criticised kifalah (sponsorship) system. The kingdom hopes that the policy will stem outflow of remittances up to $10 billion.  Besides, the foreign work force will also have property rights, thus boosting private investment in housing industry.

Saudi Arabia aims to promote itself as an attractive touristic destination owing to its diverse landscape and archaeological treasure, currently little known owing to decade-old lack of state interest.

In years to come, Riyadh plans to gradually introduce tourist visa to people of all nationalities, with the condition that the visitors will respect the local culture and traditions. Currently, eight million religious tourists visit the country to perform umrah and hajj.

Saudis await prince's vision of future with hope and concern

Though not spelled out explicitly yet, the kingdom may undo the ban on female driving as the Vision 2030 seeks to increase women's workforce participation up to 30%.

The key feature concerning labour market reforms remains vigorous Saudisation in the private sector. A government report released in October 2015 showed that the process is slow, as merely 15% or 22% of the private sector jobs go to the Saudis, one-third of their share in public sector.

Saudi Arabia is estimated to need 2.2 million private sector jobs by 2025 to reach full employment. The country's unemployment rate of 11.6% is projected to reduce to 7% by year 2030. With its more than half of population below the age of 25, the Saudisation is not only seen to add nationalistic spirit in the private sector but also leading to a more harmonised society.

Besides expansion in tourism and property development sectors, the planned economic diversification will also create jobs in mining industry as the country has proven reserves of uranium, gold, silver, aluminum, iron and phosphate, in addition to oil and gas. The mining sector alone has the potential to create over 100,000 new jobs.

Is the plan too good to
materialise?

The answer is a cautious no. Firstly, Prince Mohammed has assumed $30 a barrel oil price as the baseline. There are remote chances of oil price falling so low, given increasing demand as well as political uncertainty.

Secondly, the possibility of prolonged conflicts in the neighbourhood and the Gulf has been taken into account. Yet, outbreak of hostilities with a rival nation can surely offset the goals by any margin. Saudisation may not pick the projected pace owing to widespread lack of interest towards jobs in general. It is possibly will be a hard sell at home, requiring multipronged persuasion of youth through media as well as tribal setup.

The plan is already afoot and at a grand scale. The Saudi King's current visit to Asia, namely Malaysia, Indonesia, Brunei, Japan, China and the Maldives, aims at realising interest in foreign direct investment by key non-European nations, a core aim of the NTP.

What does it all mean for Pakistan?

Well, Saudi Arabia aims to reduce dependence on unskilled labour and stemming flow of cash to other countries. For Pakistan, remittances from the KSA hold the lion's share. However, the prospects are not as dismal.

Firstly, Islamabad is well placed to benefit from Saudi economic reforms. The country's young manpower is educated but lacks job prospects in increasingly self-centric west. Thus, Saudi Arabia emerges as a destination of choice, thanks to bilateral friendly relations.

Secondly, Pakistan must focus on dedicated finishing schools for its manpower, which must not only be fluent in English but also preferably Arabic. Regardless of the state quota, the highly competitive Middle Eastern job market demands well-rounded young professionals.

Thirdly, Islamabad has been ignoring its hospitality industry for the last two decades. With significant elimination of terrorism, CPEC-related projects and likely inflow of tourists; the country can't afford to pay a deaf ear. Pakistan needs specialist manpower to not only feed into its own tourism industry but the emerging one in Saudi Arabia.

Saudi Arabia to offer 2-year multiple visas to Pakistani businessmen

The same stands true for mining industry professionals. Like Saudi Arabia, Pakistan has unexploited proven mineral resources. Thus, investment in geo-physics and other mining related disciplines will pay huge dividends in the long run. The Saudi interest in mining industry is there to stay and Pakistan has the human resource to provide for such a demand.

The Vision 2030 offers Pakistan an opportunity to upscale its manpower export to more skilled and managerial levels, inevitably boosting its foreign remittances.

The writer is a Pakistani investigative journalist and academic with extensive reporting experience in the Middle East and North Africa. He is based in Doha and Istanbul. He tweets at @naveed360



Published in The Express Tribune, March 6th, 2017.

Like Business on Facebook, follow @TribuneBiz on Twitter to stay informed and join in the conversation.
COMMENTS (8)
Comments are moderated and generally will be posted if they are on-topic and not abusive.
For more information, please see our Comments FAQ