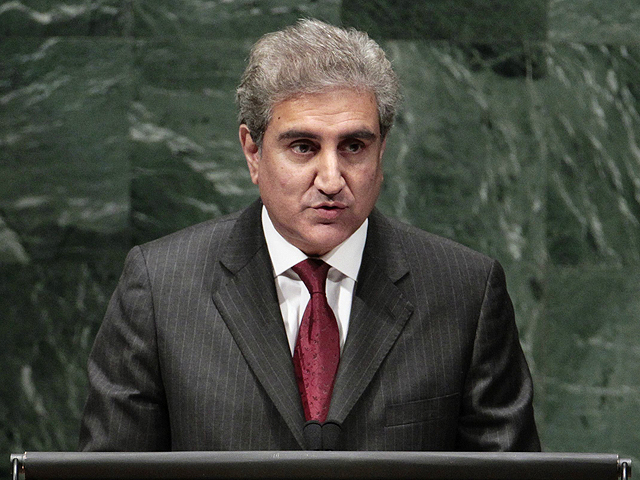 ---
ISLAMABAD: Foreign Minister Makhdoom Shah Mahmood Qureshi was the chief guest at a dinner hosted by Spanish Ambassador Gonzalo Maria Quintero Saravia in Islamabad on Monday.

The Spanish ambassador hosted this dinner in Spain's capacity as the current President of the rotating Presidency of the EU. The dinner was attended by all envoys of the EU countries based in Islamabad. Foreign Minister Qureshi recalled the visit of EU ambassadors to Peshawar and their support to the people of Khyber- Pakhtunkhwa.

He briefed the EU ambassadors on the government's policies aimed at strengthening democracy and democratic institutions in the country. The successful counterterrorism strategy of the government was also highlighted. On foreign policy issues, Qureshi informed the EU ambassadors about several initiatives, including the "Friends of Democratic Pakistan" which had lent strategic support to Pakistan in its difficult times. He said Pakistan was looking forward to the next FoDP ministerial meeting in Brussels in August this year which will be co-chaired by Pakistan and the EU Commission.

He said the prime minister of Pakistan, accompanied by a high level delegation would visit Brussels on June for the Second Pakistan-EU Summit meeting. The summit would help raise awareness in the EU about Pakistan's challenges as well as further strengthening political and economic ties with the EU. It would be a continuation of the regular interaction between the two sides at the highest level since the institution of the democratic Government in Pakistan.

He emphasized that Pakistan wanted a strong multifaceted relationship with the EU signified by high level contacts between the two sides. An important aspect of this relationship was provision of preferential market access in EU markets as it would help stabilize Pakistan's economy which had suffered enormously as a result of Pakistan's role as a frontline state against terrorism. The foreign minister also briefed the EU Ambassadors on Pakistan's relations with the neighboring countries.

In the context of Pakistan-India relations, Qureshi mentioned the meeting between the two prime ministers in Bhutan on 29 April and his own subsequent telephone conversation with his Indian counterpart. The foreign minister also touched on the situation in Afghanistan and Pakistan's desire to assist Afghanistan in capacity building and reconstruction efforts, including through the involvement of Pakistan's private sector. In this regard, Pakistan was willing to continue working with the international community and remain engaged with Afghanistan.

Published in the Express Tribune, May 18th, 2010.