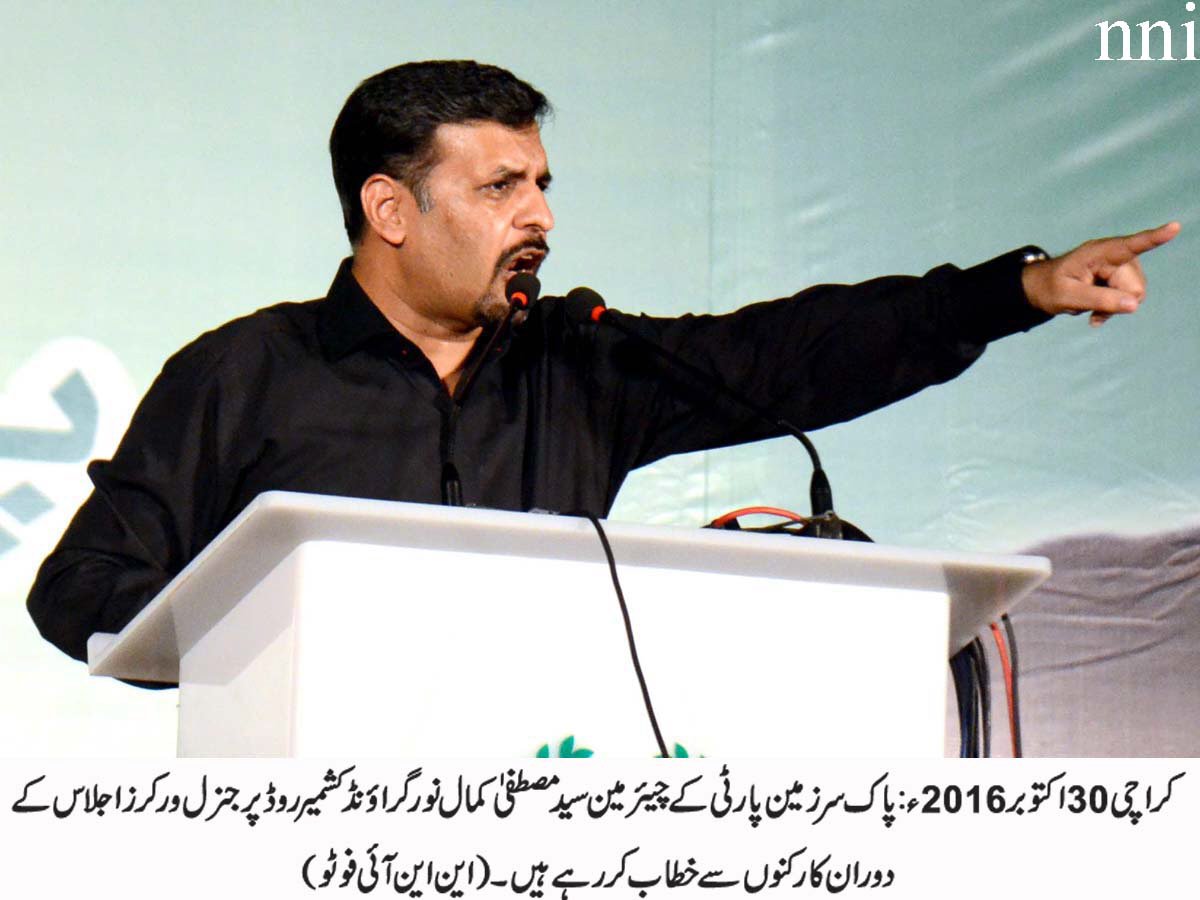 ---
KARACHI: Pak Sarzameen Party [PSP] Chairman Mustafa Kamal on Sunday rejected reports that he and Muttahida Qaumi Movement - Pakistan chief Farooq Sattar were considering to form a coalition in the upcoming general election.

Talking to the media at the Expo Centre, he said PSP will not do politics in the name of Muhajirs like the MQM had done in the past as already such politics had propelled the city to see its fair share of violence.

"There is no credibility in the reports suggesting a coalition with Sattar," he said. "We [PSP] won't let people suffer anymore due to ethnic politics. Instead, we want to make this city peaceful."

'When India and Pakistan can sit for talks, why can't MQM factions?'

Later, addressing a public gathering organised by his party in Baldia Town as part of its second phase of protest campaign for the rights of the city, he said the biggest enemy of the Muhajirs was the person who did politics in their name.

"We have eliminated the ethnic divide among the people of the city so that the coming generations can work together for the betterment of this country," he commented, taking a jibe at MQM-P and Muhajir Qaumi Movement - Haqiqi.

"A generation has been killed while another is languishing in jails. Still, there is one who is ready to fight till death. We won't let this happen," he said, telling the audience about the future plans of his party.

Urging people to join the 'million march' organised by PSP on May 14, he said it was their duty to take to the streets for their rights. "Those who are silent on the exploitation are no less than the oppressors."

Kamal says PSP's politics not based on language

At a public gathering in Gulistan-e-Jauhar on Saturday, the PSP chairman had said, "We have not started this campaign for political gains, but to resolve the basic issues of the people of Karachi. The PSP will not retreat until its 16 demands are accepted."

"The Sindh government had asked the PSP to conclude its protest campaign after accepting eight, out of 16, demands, but we said to them that first the chief minister should start implementing the demands," he said.

He had asked the people to join hands with him on May 14 and partake in the PSP's million march on Sharea Faisal to demand their rights. "When one million people will come out on the streets, their demands will be met before the stipulated time."
COMMENTS
Comments are moderated and generally will be posted if they are on-topic and not abusive.
For more information, please see our Comments FAQ