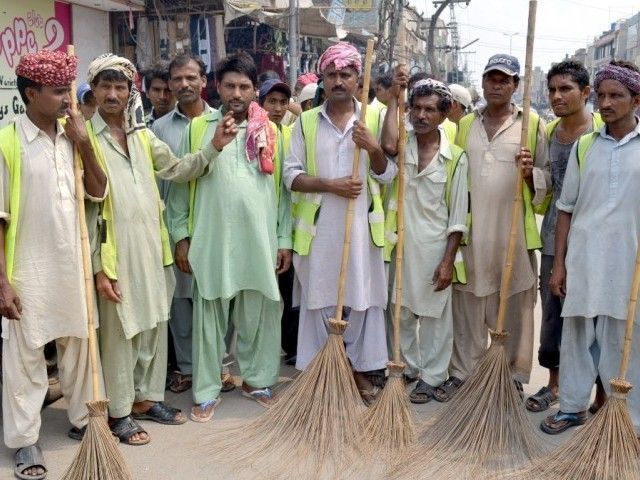 ---
MULTAN: A Christian sanitary worker was allegedly beaten up by a security guard in Jahanian on Saturday on the orders of the Khanewal deputy commissioner (DC) during the official's visit to the area's tehsil headquarters hospital.

Khanewal DC Muzaffar Khan Seyal went to the healthcare facility to inspect its cleanliness before a Pakistan Muslim League-Nawaz minister's visit there.

The area's Christian community members said on seeing the filthy condition of the OPD ward, he summoned the sanitary workers responsible for its maintenance.

At the time, only one worker, Shakeel Masih, 24, was present on duty.

On Seyal's orders, his security guard slapped Shakeel.

Then, on the DC's further instructions, Shakeel was punched and hit with a baton.

Christian student beaten up for using washroom in Faisalabad

After the DC left, the sanitary worker was provided with first aid by the hospital employees.

Shakeel said he had mopped the floor properly, but as the hospital was undergoing renovation, some paint stains had remained there.

Following the incident, the hospital staff and scores of the minority community's members staged a protest at the entrance of the hospital against the thrashing of the worker.

The protesters demanded that Minorities Affairs Minister Michael Kamran should take action against Seyal.

Aakash Shehzad, a community leader, said Shakeel was a punctual worker and performed his duties with dedication.

He added that other workers were not punctual and that was why Shakeel was the only one of them present at the hospital at the time of Seyal's visit.

Religious minorities being discriminated against

Salamat Mazhar, another protester, said everyone deserved respect without any discrimination based on religion, cast or creed.

One participant said they were protesting in Tehsil Jahanian only but if no concrete steps were taken, they would spread their drive across the district.

The minorities affairs minister assured the protesters that he would come to Jahanian to resolve the matter and address their grievances.

When The Express Tribune contacted Seyal, he refused to comment on the issue.
COMMENTS
Comments are moderated and generally will be posted if they are on-topic and not abusive.
For more information, please see our Comments FAQ