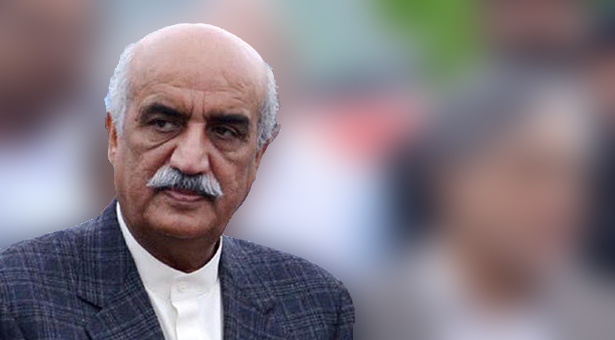 ---
KARACHI: Calling the present government a security risk, Leader of Opposition in National Assembly Khursheed Shah on Friday said India was targeting armed forces and civilians at border but Prime Minister Nawaz Sharif was holding meeting with an Indian businessman for his 'vested interest'.

"It is high time the PM informed the nation whether he stands by Pakistan or anti-state elements," Shah, who belongs to the PPP, said while talking to media in Karachi on Friday.

He said Nawaz Sharif is the prime minister of this country, so he should tell the nation about his meeting with Indian businessman, Sajjan Jindal, who, he said, also happened to be Nawaz's best friend.

Details of Nawaz-Jindal 'secret' meeting must be made public: Khurshid Shah

"Sometimes he holds meetings with his Indian counterpart Narendra Modi and sometimes Jindal arrives in Pakistan. People want to know what is cooking behind the scene," he said, adding: "The government has now become a security risk for the country and there is dire need to get rid of it."

Talking with reference to award of capital punishment to Indian spy Kulbhushan Jadhav, Shah said Nawaz would have tried to reconsider the verdict against Jadhav, had it not been handed down by a military court. "The PM can influence to delay his [Jadhav's] sentence, but not stop it," he added.

Shah accused the government of betraying the PPP. "The PM has lost the moral ground to hold his office. All political forces must join hands against it for the sake of country's integrity and sovereignty," he said.

Govt will scapegoat the small fry in Dawn Leaks report, says Khursheed

The opposition leader said the PML-N had been given the mandate in 2013 to overcome the load-shedding and energy crisis, but it had miserably failed to live up to its pledge.  "There is still 7,000 MW shortfall and people in various parts of the country, including Lahore, are suffering from severe outages."

Shah claimed that the government in the last four four years had only added 1,200MW to the grid as compared to the last PPP government which had contributed around 3,500 MW.

He also criticised Minister for Interior Chaudhry Nisar for taking exception to the Inter-Services Public Relations (ISPR) chief Major Gen Asif Ghafoor's reaction to Dawn Leaks report. He said former ISPR chief Lt Gen Asim Bajwa had used Twitter on various issues and it was not something new.

Opposition calls for making inquiry report public

"Nisar has called his [Ghafoor's] tweet as 'poison for democracy and system'. If any minister from Sindh had uttered these words then he would have been declared enemy of the state," he added.

Shah also criticised Sindh Governor Mohammad Zubair who at a seminar on Thursday urged people to vote for the PML-N. "According to the Constitution, he is the federal government representative and his post is nonpolitical and nonpartisan; so the governor must avoid such statements."

Talking about development initiatives in his area, he said for the first time Sindh government was going to establish the largest stadium of Sindh in Sukkur. "Sindh Institute of Urology and Transplantation (SIUT) has started its operation in Sukkur and government is also planning to set up a cancer hospital there," he added.