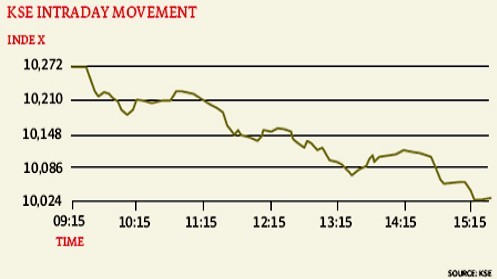 ---
KARACHI: Stocks ended 2.3 per cent down to a near two-month low on Monday because of falling international oil prices and in line with a fall in world markets over troubles in the euro zone.

The Karachi Stock Exchange's (KSE) benchmark 100-share index fell 2.32 per cent, or 237.95 points, to 10,033.76. "The market remained under pressure throughout today's trading session on the back of a fall in regional markets and declining global oil prices," said Furqan Punjani, an analyst at Topline Securities Ltd. World stocks fell and the euro slumped to a four-year low on Monday as Asian markets caught up with Friday's sell-off in the West, shrugging off encouraging data and remaining fixated on trouble in the euro zone.

Dealers said international oil prices falling below $70 a barrel on Monday to their lowest in over three months also put pressure on the market. Dealers said investors were encouraged by the International Monetary Fund's (IMF) board approval of the fifth tranche amounting to $1.13 billion on Friday but the pressure from regional markets restricted gains. The IMF on Friday said its board agreed to release $1.13 billion in aid for Pakistan and waive some of its requirements.

Pakistan agreed to an IMF emergency loan of $7.6 billion in November 2008 to avert a balance of payments crisis and shore up reserves. The IMF increased the loan to $11.3 billion in July. Monday's trade volume stood at 73.62 million shares. Total exchange value stood at a disappointing Rs2.64 billion. During the day's trade, only 89 stocks closed higher, while 284 declined in value and seven remained unchanged. Lotte Pakistan (KSE: LOTPTA) was the volume leader with 7.08 million shares losing Rs0.43 to close at Rs10.25.

Silkbank (KSE: SILK) came second with 5.54 million shares losing Rs0.11 to close at Rs3.28. Bank of Punjab (KSE: BOP) finished third with 4.03 million shares losing Re1 to close at Rs15.07. Oil and Gas Development Company (KSE: OGDC), the heaviest weighted company on the KSE index, fell 1.12 per cent to Rs136.50. "Pakistan State Oil (KSE: PSO) once again warned the government that the country is heading towards an oil supply shortage due to inadequate funds for fuel imports," said Faiza Naz, an analyst at JS Global Capital.

As a result, there was intense selling pressure, PSO's stock dropping 3.1 per cent to Rs301.49. Rafhan Maize Products (KSE: RMPL) was the KSE- 100 top gainer of the day, its share price rising 2.69 per cent to Rs1,450. Pakistan Telephone Cables (KSE: PTEC) was in the losers list dropping a massive 10.94 per cent to Rs2.85. NIB Bank (KSE: NIB) closed in the red, its share price shedding 6.06 per cent to close at Rs3.72.

Published in the Express Tribune, May 18th, 2010.
COMMENTS
Comments are moderated and generally will be posted if they are on-topic and not abusive.
For more information, please see our Comments FAQ