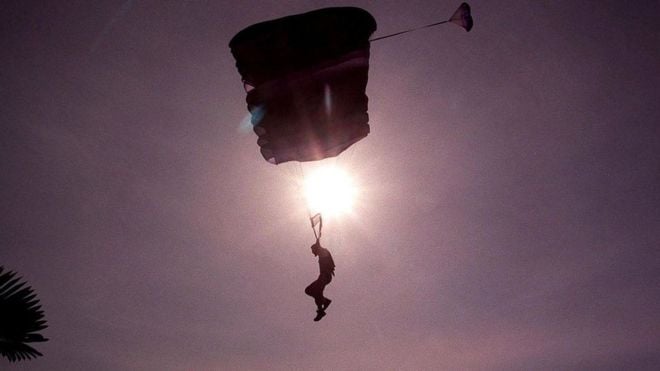 ---
A British man died during skydiving at the Thai resort town of Pattaya.

"The man may have had a heart attack or a stroke after jumping off the plane on Thursday," Thai sky adventures told the BBC.

He was said to have been an experienced sky diver but ended up landing in a reservoir and was pulled out quickly.

Skydiving: Aseefa Zardari 'jumps for humanity'

Thai authorities are still investigating the incident and the police is in the process of ascertaining whether the man died from jumping or drowning. The foreign office has yet to confirm the man's identity.

"The centre began its own investigation immediately after the incident on Thursday," said Harry Harrison, director of flight operations at Thai Sky Adventures.

According to eyewitnesses, a man was seen spinning in mid-air after he jumped. Even though his parachute was deployed, he did not steer it as he drifted towards the ground and ended up landing in water instead of the designated spot.

"The man was pulled out within five minutes by a rescue team, who tried to revive him," said Mr Harrison.

This Pakistani actor is taking flying classes to overcome acrophobia ahead of new film

Last year, a Russian instructor died during a jump. This is the second death to have taken place at Thai Sky Adventures.

Mr Harrison said the causes for both deaths could not to be attributed to the centre as their safety record is excellent.

The centre would resume operations on Saturday after being closed down on Friday after the incident.