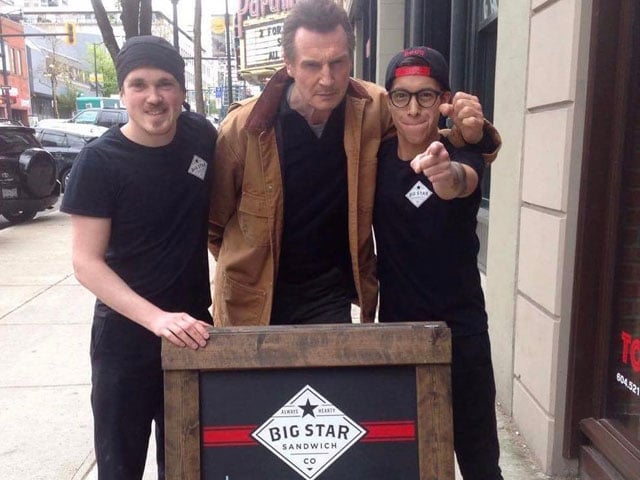 ---
Actor Liam Neeson surprised people by walking into a Canadian sandwich shop, which had put out a sidewalk sign that read, "Liam Neeson eats here for free".

Vancouver area Big Star Sandwich put out another sign that read: "Come in and get Taken by our sandwiches." This was after the shop found out the Taken star was in town filming Hard Powder.

Silence: Watch, drool, absorb, repeat

According to BuzzFeed Canada, employees put the sign out earlier this week in the morning and Neeson showed up in the afternoon.

Alex Johrden, Big Star's director of operations, said the two employees, Kyle Gus and Serge Patoka, were shocked to see Neeson in the shop.

"We had no idea he would be in our vicinity," Johrden said. "I assume someone on the film crew saw the sign and got it back to him."

Even though Neeson didn't purchase a sandwich, he did pose for a photo.

Liam Neeson hints at converting to Islam

Big Star shared the photo on Instagram and wrote, "Holy f**k, it worked! Liam Neeson."

https://www.instagram.com/p/BTnNniOjVzC/

Gus and Patoka couldn't were thrilled about it.

"As you can see in the photo, they're about as stoked as they've ever been in their lives," Johrden said.

Have something to add in the story? Share it in the comments below. 
COMMENTS (1)
Comments are moderated and generally will be posted if they are on-topic and not abusive.
For more information, please see our Comments FAQ