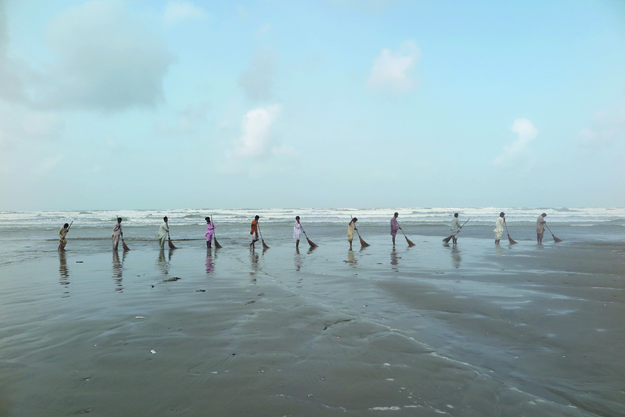 ---
KARACHI: The recent work of artists Omer Wasim and Saira Sheikh, titled 'Optics of Labour', which is currently on display at Koel Gallery, talks about the dilemmas and marginalisation of the working class.

In the audio and visuals including images and videos that the artists have made, 11 labourers can be seen working at the beach, cleaning the sand and the mud being thrown in the ocean. Although Sheikh was unavailable to speak about the exhibition, Wasim spoke about this project and exhibition that is open till 20 May. It took the artists 10 months to finish the project.

Labour Day: Legal reforms urged

"We [the artists] both live in Defence Housing Authority (DHA) and we can say that the majority of this area is still under construction," Wasim said. He believes that there is redundancy of labour in Karachi.

"For this body of work, we focused on the futile and absurd task of cleaning all the sand from the beach," Wasim said while speaking about their project. Sand is always blowing over and it is impossible to clean, he said, adding that the cleaners can never complete their work no matter how hard they try.

"We hired 11 cleaners from Cantonment Board Clifton (CBC) for a day and asked them to sweep all the sand from the beach into the ocean that the DHA forces them to do," he said. There is an element of impossibility, absurdity and reproducibility weaved in this body of work, Wasim added.

Workers, activists urge govt to introduce labour law reforms

"It is an impossible and absurd task, which signals that the DHA and CBC do not have the well-being of citizens at heart," the artist said. "The images that have been cropped and we talk about aesthetic objectification." He added that these workers remain anonymous. "We tried to show this in order to criticise the system, implicate ourselves and other artists. These labourers have been exploited for public spectacle," the artist added.

"The artists and photographers who do such work spend hours at their printer's workshop making multiple copies of each photograph, resizing the image to make sure that it is not pixelating and discussing the composition of the image," Wasim said. However, he added that the artists and photographers rarely ever talk about the person in the photograph and don't try to connect them. "These photographs are ostensibly meant to be put up on our walls, suggesting that we can only accept poverty when it comes in a frame with a hefty price tag," he said.