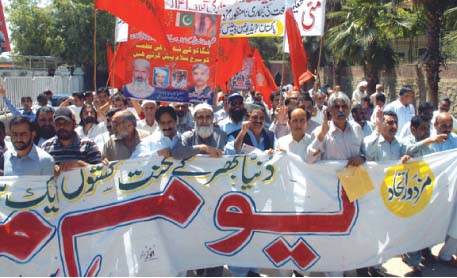 ---
PESHAWAR: Like the rest of the country, events marking the International Labour Day were held across Peshawar on Monday to express solidarity with labourers and to demand reforms in labour laws to facilitate workers.

One such event was held at the Peshawar Press Club by women's rights non-profit Da Hawwa Lur (Eve's Daughter). The event aimed to highlight the contribution of domestic help workers to the society and country.

Khyber-Pakhtunkhwa Assembly Deputy Speaker Dr Meher Taj Roghani was the chief guest on the occasion. In her address, she said the provincial government was striving to formulate laws to address issues domestic workers might be facing.

Asmat Jahan of the Awami Workers Party appreciated the hard work domestic workers put in and urged the society to appreciate their contribution.

Speaking to The Express Tribune, Da Hawwa Lur Program Director Shawana Shah said legislation was the need of the hour to facilitate domestic workers.

"Women are contributing to every sector of the country and this is mandatory that their work should be recognised and respected," she added.

Sindh passes law to prohibit child labour

Similarly, a solidarity walk was organised in the city by the Pakistan Workers Federation (PWF), representing more than 1,200 labour unions in the country.

The march began from PWF's provincial headquarter to Bacha Khan Square and was led by PWF's provincial president Razam Khan as well as representatives of various labour unions.

While addressing the rally, Khan said some labour laws in the country needed a complete overhaul because they were formulated decades ago and not in tune with the current time, while some other laws need amendments.

Commenting on workers' problems, he regretted that in various workplaces, workers were not being paid as per the wages fixed by the government and these problems need to be addressed.

Furthermore, he said delays in the release of salaries were another major issue labourers were facing in their organisations and that should be addressed too.