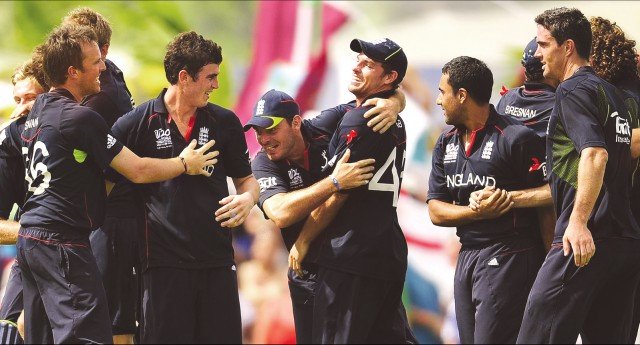 ---
BARBADOS: England captain Paul Collingwood cited his team's self-belief as a key factor in their Twenty20 final victory against arch-rivals Australia at the Kensington Oval on Sunday.

England won in convincing fashion, by seven wickets with three overs to spare, after a commanding second-wicket stand of 111 between man-ofthe- match Craig Kieswetter (63) and man-of-the-tournament Kevin Pietersen (47). It was all a far cry from last year's World Twenty20 where Collingwood was the captain of an England side that humiliatingly lost its opening match to minnows the Netherlands at Lord's.

"I think belief has been the key," said Collingwood who hit his side's winning runs. "As soon as we got the squad together, seeing how much power we have in the squad, I know that is all on paper but we could tell that we had a lot of potential. "I think belief has been a huge thing - you can see from the way the guys have gone out from first ball, believing in themselves and taking it to the opposition and playing a brand of cricket that is unlike England in the past."

England had never previously won a major one-day tournament, having lost in the 1979, 1987 and 1992 World Cup finals as well as falling in the climax of the 2004 Champions Trophy. "This is right up there, with the best. To be the first [English] team to win a 'World Cup' is very special. No team has really got hold of us throughout the tournament. A lot of credit goes to them for their thought processes, and the execution of plans have been absolutely spot on." Pietersen thanked his teammates for helping him find his form after a man-of-the-tournament- winning display during England's World Twenty20 triumph.

The South Africa born shotmaker was back to his commanding best, scoring 248 runs during the World Twenty20 at an average of 62, despite missing a match to complete an 8,000 mile round trip to attend the birth of his first child. "It's humbling, for sure," said Pietersen of his individual award. "You've got to savour things like this. But if it wasn't for the help of all the dressing room in Bangladesh and the coaching staff and management, I probably wouldn't have been here – batting the way I did." He paid particular tribute to captain Collingwood, saying, "The nights and the dinners I had with Colly, reassuring me of how to play when you lose sight or how you should be playing coming back from the injury I had, really helped.

It's difficult to believe." "But player-of-the-series is just something given to one person. The team is the most important thing. If it was not for the team I wouldn't be sitting here."

Published in the Express Tribune, May 18th, 2010.
COMMENTS (1)
Comments are moderated and generally will be posted if they are on-topic and not abusive.
For more information, please see our Comments FAQ