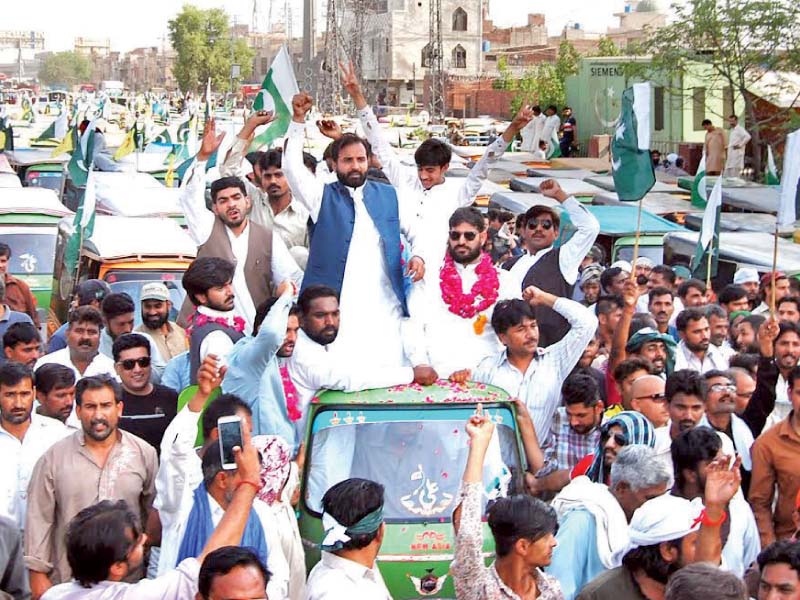 ---
LAHORE: Hundreds of rickshaw drivers took to the streets outside the headquarters of a ride-hailing company at Arfa Software Technology Park on Thursday to protest against the cut-throat competition against online services.

On the call of Awami Rickshaw Union (ARU), the rickshaw drivers staged a protest rally from Jinnah Hospital to Arfa Software Technology Park holding placards, inscribed with slogans against the ride-sharing services Uber and Careem.

The protesters also shouted slogans against the provincial government, the Punjab Information Technology Board (PBIT) and the transport department, accusing them of giving a free hand to these services.

"The government has allowed all these services to operate in violation of local taxation and transport laws," claimed ARU President Majeed Ghauri while talking to The Express Tribune.

He added the government should provide a level playing field to all transport operators and these ride-sharing services should be declared as taxis like yellow/green cabs.

Rickshaw drivers are facing a tough competition from these services and have decided to launch the 'Rickshaw Jalao Tahreek' (Burn Rickshaw Movement) in Lahore, he said. If the government does not accept rickshaw drivers' demand, the ARU would burn first rickshaw on Saturday (tomorrow).

The government had already destroyed rickshaw drivers' livelihood by allowing theses services to operate, making rickshaws useless for poor drivers, he said.

Responding to a question, he said that the ride-sharing model could be successful in developed countries but in a state like Pakistan it should not be operated at the cost of poor rickshaw drivers. Earlier, rickshaw drivers were being allegedly victimised by the Lahore Transport Company (LTC) and traffic police, now illegal ride-sharing and online taxi services were making rickshaw drivers' lives difficult by not allowing them to earn a living peacefully, he added.

A frequent Uber user, Muhammad Uzair said these services had proved a great success in major cities of the country. A sort of price war and cut-throat competition among different service providers had drastically reduced travel cost and had increased quality of service over past year. Earlier, rickshaw and taxi drivers were blackmailing commuters because citizen did not have any other option.

Uzair pointed out that rickshaw and taxi drivers were still charging the same fares when petrol was priced over Rs100 per litre although petrol prices have dropped nearly 40%. On the other hand, ride-sharing services had dramatically reduced their fares but some drivers cheat commuters by driving slow and choosing long routes, he maintained.

A Careem user Salman said that several smartphone-based rickshaw services, including Uber, Careem and others, were also operating in the city and offering cheaper fares to commuters. "I am sure drivers associated with online ride sharing services would be earning more than drivers resisting new technology," he said.

Published in The Express Tribune, April 28th, 2017.
COMMENTS
Comments are moderated and generally will be posted if they are on-topic and not abusive.
For more information, please see our Comments FAQ