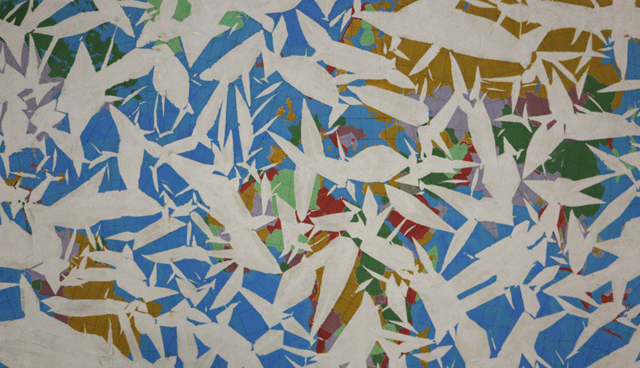 ---
KARACHI: With differing perspectives, two artists put up a show together to offer insight into the times we live in.




Kashif Mangi and Muhammad Hosyen, both recent graduates of National College of Arts (NCA), Lahore, showcased their works at an exhibition, titled 'Paintings'. It is on display till May 5 at the Indus Valley School of Art and Architecture (IVS) Gallery.

Mangi and Hosyen have depicted different aspects of life in their paintings.

44 artworks of Bin Qulander on display in Karachi

Mangi painted features of Bollywood actors such as Rekha, Siri Devi and Juhi Chawla. However, the faces that were blurred included those of Lollywood sensation Reema and Bollywood diva Madhuri. "While working with filmy posters, I realised that film actors were known for their poses," said Mangi. "Also the lying-down-on-the bed poses depict how they get to communicate via the camera with their viewers. Hence, a pose dictates the terms of communication [while] I have only [made] possible use of it."




Mangi has displayed 19 oil-on-canvas paintings. He said the medium of oil on canvas allows him to create pieces that are in constant demand.

In the work of Hosyen, one finds the abstract world coming into being. "There is abstract work but there is reality behind it," he said. While Mangi's pieces are untitled, Hosyen's artwork provides a glimpse into his stint as a strong Pakistan Tehreek-e-Insaf (PTI) fan at one point in time.




Ten of his pieces have been given titles such as 'Accountability', 'Justice' and 'Tabdeli'. However, when you question him about his political mindset, he says, "We were promised a Naya Pakistan. Today, that same face is fractured, depicting a sad situation in which political and constitutional rights are being subdued."

Starter forum: Young and old come together for art show

One of his images depicts the third world war, for which he blames mankind. "It is man who creates and destroys things on his own. This is my critique on the current political landscape and the protests on current happenings."
COMMENTS
Comments are moderated and generally will be posted if they are on-topic and not abusive.
For more information, please see our Comments FAQ