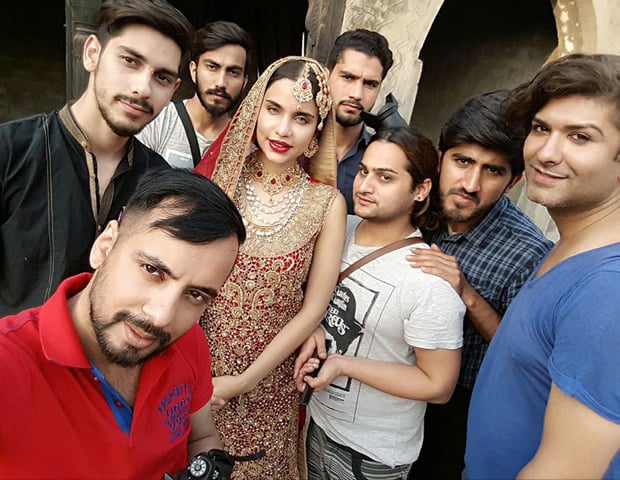 ---
Around two years ago, an annual function was about to happen at Government College University Faisalabad (GCUF). Organisers and participants were equally excited as a catwalk was set up and scores of famous models from across Pakistan were expected to attend. After all, it was for the first time students would witness a professionally-organised fashion show with all its 'big city' pomp and show. Music blared out of loudspeakers, lights shone on the stage and models got ready backstage. Model Ubair Naeem Chughtai, who is also the lead guitarist for famous singer Bilal Saeed, was invited as the show stopper.




But the show never took place.

"I had never performed in Faisalabad before and I was looking forward to the show but the event was cancelled, supposedly for security reasons. I was there when university's security guards raided the venue and forced models out just minutes before they were scheduled to hit the ramp," Chughtai tells The Express Tribune.

Pakistani textiles take a hit, orders drop 50%

Chughtai says models wearing heavy makeup and delicate designer dresses were seen struggling for a ride home on the road late in the evening.




Many believe the show was cancelled not due to security threats but because of petty internal politics that is all too common at public universities. For some, including Faisalabad-based designer Shahid Sheikh, it was a black day for the city's fashion industry. "A fashion show was cancelled at GCUF which has its own design school. I, a graduate of fashion designing, couldn't showcase my work," Sheikh says with deep regret.

Sheikh owns a fashion label called Satar Studio. It is a small set up, launched in 2007, and Sheikh does all the work. "Being a fashion designer in Faisalabad is not easy; I have been struggling for the last 17 years. The main problem is the replica market that exists in the city. Customers visit our stores, take photos of our collection and get a replica made from Bano market for a cheaper price," he states.

Faisalabad is known as Pakistan's textile hub and has two major fashion design institutes but the city has failed to make a name for itself in the national fashion arena. Recently, students of Faisalabad Institute of Textile & Fashion Designing showcased their final year thesis but despite their brilliant ideas, they didn't receive any public appreciation. Even designers who graduate from National Textile University end up being cogs in the machine and never get a chance to make a brand of their own.




Lack of opportunities for designers to showcase their work means a dearth of professional models in the city. MPhil student Atif does modelling in his spare time to help his friends who are part of the industry. "I am ready to join the computer software market but I am doing modelling on the side because I want to help make a name for my city. If we don't come forward and play our part, then who will," he asks.

For those who want to pursue modelling as a career, the economics of the industry is not too enticing. A journalism graduate, Annie Ali says she does modelling out of passion but regrets how she and her peers are underpaid.

Being a woman, she has another set of problems to face. "Unfortunately, people do not see modelling as a profession in the city and there's no respect for the privacy of the models. They think those walking the ramp are easily 'approachable'," she shares, complaining that she is often harassed.

"This narrow-mindedness is a result of illiteracy and lack of awareness. I hope one day we can overcome this problem," Ali says.




The bigwigs of the struggling fashion industry agree it is far easier to organise a political jalsa in Faisalabad than a fashion show. Makeup artist Mirza Zaman, who often coordinates shoots, says one has to jump through many hoops to get a No Objection Certificate for an event.

"You need approval from the district commissioner's office, which is not an easy task. Your application is then transferred to the security branch of the central police office, after which the relevant police station gives security clearance," Zaman explains painstakingly.

The makeup artist, however, points out that all of this becomes easy when you grease palms of every official you have to go through.

Such bureaucratic troubles along with a lack of professional interest and negative perception of showbiz is holding Faisalabad back despite the fact that the city is the hub of textile industry in Pakistan and has what it takes to make a name in the fashion world.

ALL PHOTOS PROVIDED BY THE AUTHOR

Fazal Gilani is a freelance journalist and former news reporter. He tweets @Gilaniism
COMMENTS (1)
Comments are moderated and generally will be posted if they are on-topic and not abusive.
For more information, please see our Comments FAQ