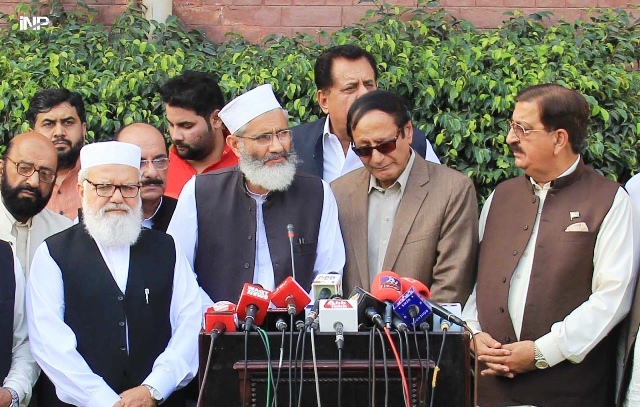 ---
LAHORE: The Pakistan Muslim League-Quaid [PML-Q] and the Jamaat-e-Islami [JI] agreed on Monday to form an alliance to oust Prime Minister Nawaz Sharif in the wake of the Panamagate verdict. This was decided after PML-Q President Shujaat Hussain and JI Amir Sirajul Haq met at Mansoora.

'PM won't resign due to pressure by political parties'

Hussain said, "The JIT cannot function effectively or carry out an impartial investigation till Prime Minister Nawaz Sharif is in office."

JI leaders, agreeing with the stance of Hussain, said that we are also moving ahead within our party with these views and will maintain a joint stance with PML-Q. The party also announced to nominate Liaquat Baloch and Mian Maqsood in the four-party alliance already established.

Talking to media afterwards, Hussain said some people are saying that two judges gave dissenting note whereas all the five judges have said that Nawaz Sharif is no longer Sadiq and Ameen. He also claimed that Zafar Ali Shah had advised the PM that the Supreme Court's verdict is against him.

The PML-Q president urged that all opposition parties will have to unite on the one point agenda against the government to force the PM to resign.

Politicking: PM has lost the right to rule, says Shujaat

Meanwhile, JI Amir Sirajul Haq said that two judges had declared the prime minister guilty, whereas three judges accused him of concealing facts. He added that all five judges have written history by declaring Nawaz Sharif as accused. He also advised the PM to resign until proven innocent.

The meeting was also attended by Khurram Nawaz Gandapur, Ahmad Raza, Tariq Bashir Cheema, Senator Kamil Ali Agha, Ameerul Azeem, Farid Paracha, Hafiz Idrees, Mian Maqsood, Asad Abbas and other leaders.