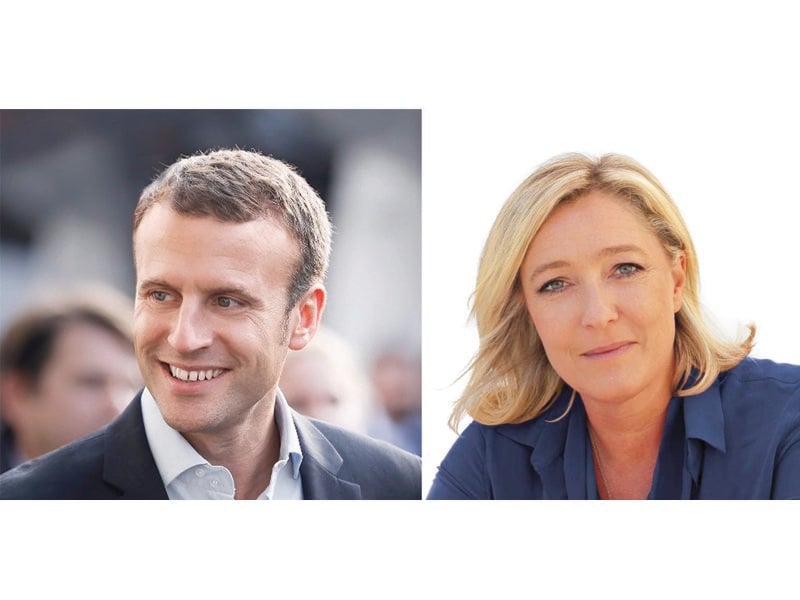 ---
PARIS: Centrist Emmanuel Macron and far-right leader Marine Le Pen are set to face each other in a May 7 runoff for the French presidency after coming first and second in Sunday's first round of voting, early projections indicated.

In a race that was too close to call up to the last minute, Macron, a pro-European Union ex-banker and economy minister who founded his own party only a year ago, was projected to get 24 per cent by the pollster Harris and 23.7 per cent by Elabe.

Le Pen, leader of the anti-immigration and anti-EU National Front, was given 22 per cent by both institutes.

Harris gave both conservative candidate Francois Fillon 20 per cent and far-left contender Jean-Luc Melenchon 20 per cent, which would mean their elimination from the race.

The result, if confirmed, will mean a face-off between politicians with radically contrasting economic visions for a country whose economy lags that of its neighbours and where a quarter of young people are unemployed.

Though Macron, 39, is a comparative political novice who has never held elected office, opinion polls in the run-up to the ballot have consistently seen him winning the final clash against the 48-year-old Le Pen easily.

Macron welcomed the projections showing him reaching the runoff of the election together.

Meanwhile, Le Pen vowed to defend France against 'rampant globalisation' after she qualified to fight out the second round of the election.

Published in The Express Tribune, April 24th, 2017.
COMMENTS
Comments are moderated and generally will be posted if they are on-topic and not abusive.
For more information, please see our Comments FAQ