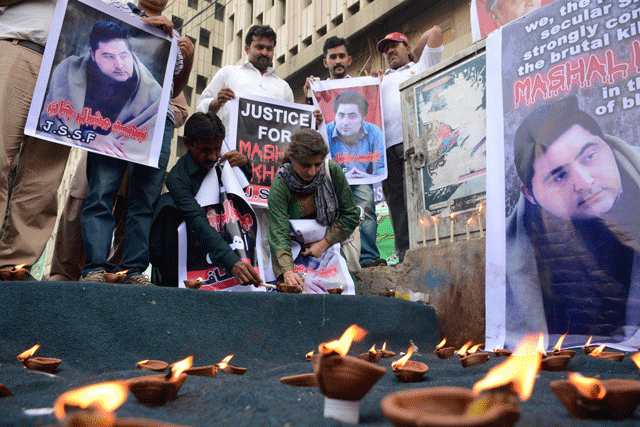 ---
KARACHI: Activists of Karachi once again took to the streets against the lynching of Abdul Wali Khan University student Mashal Khan Saturday afternoon.

The protest was staged outside Karachi Press Club. Civil society organisations, writers, poets and intellectuals participated in the protest to give the message that they are believers of humanity and are against extremism.

Journalism student Mashal Khan was lynched and shot on campus by fellow students and university staff members after accusations of blasphemy were levelled against him.

People I trusted would teach my son, killed him: Mashal's father

Organisers said that it was a peaceful protest. "We have to show that from now onwards, we the people are standing tall against bigotry, intolerance and brutality of all kinds," they said. "We will never be silenced and will build a new narrative for this society."

On the occasion, banners and placards read slogans such as 'Make University a Safe Space' and 'We, the people of secular Sindh, strongly condemn the brutal killing of Mashal Khan in the name of blasphemy'. Protesters also held photos of Mashal in their hands and shouted slogans against extremism, demanding that all those involved be charged and tried as per the laws of the country.

Artiste Sheema Kermani stressed the need for continuous protests. "We need to carry out continuous protests in order to let people know that [the] majority in Pakistan is against extremism and brutality and does not support killing fellow human beings," she said.

Mashal Khan lynching: PPP K-P lawmaker demands journalism dept chairperson, teachers' arrest

According to her, the lynching incident that took Mashal's life does not happen in any civilised society and such incidents should not be encouraged. She further remarked that no one has the right to take the law in their hands under any circumstances.

We need to raise voice against the tragic incident, lawyer Jawed Qazi said while talking to The Express Tribune. "It's the murder of [the] thought [that] Jinnah made Pakistan for," Qazi maintained. The same people tried to kill Malala Yousafzai but she became a hero, he said, adding that now it is Mashal who has become a symbol of the fight against extremism. It's high time that the state changes its narrative otherwise our country will be hijacked by extremist and terrorist organisations, he said.

On the occasion, poet Waheed Noor read these lines from his book: "Apnay afkaar ko tabdeel nahin kar saktay, Aap kay hukum ki tameel nahin kar saktay [We cannot change our thoughts, We cannot fulfil your orders."

SC to hear Mashal Khan lynching case tomorrow

He added that it's very unfortunate that the blood of Mashal is on the hands of university students, who are the future of any country. "We need to stop turning students into machines or else they would create an alarming situation for those who think differently or raise questions," Noor stressed while talking to The Express Tribune.

Sindhi nationalist Ilahi Buksh Bikak was of the view that we always need to be on the side of humanity since the purpose of religions is to serve humanity. We believe in Sufi Islam, not that of the Taliban, Abu Bakr Baghdadi or Mullah Umer, he said.

After staging the protest, the participants later marched towards Frere Hall.